News Archives: 2006
January 1, 2006

Just Fabulous

By Vicki Prichard
The Sunday Challenger
vprichard@challengernky.com

Knack For Sewing Launched Donna Salyers' Career

COVINGTON - Donna Salyers didn't grow up wearing furs - neither faux, nor real. She did, however, grow up with a grandmother who could whip a mighty stitch, and under her tutelage Salyers learned to do the same.

"I was just one of those little kids who like to sew," Salyers said. "I loved pretty clothes and I was from a poor family, and if I was going to have them, I thought, I'll learn to sew, and I'll make them."

She not only made her own clothes, but became an expert on how others might do the same.

In 1974, Salyers, who grew up in Northern Kentucky and graduated from Dixie Heights High School in Crestview Hills, wrote a letter to the editor of the local paper saying that publication's sewing column wasn't up to par.

"I said the column in your paper is so bad even I could write a better column," Salyers said. "They called me and said, 'We wish you would.' I wrote six samples, and I remember thinking I've never written anything but a letter to the editor."

But lack of experience didn't matter and for the next 17 years Salyers wrote a weekly sewing column, "Sewing, Etc.," for Gannett newspapers. She also made guest appearances on sewing segments for a cable television show that was taped in New York City.

"I would go to New York to do these shows and I thought everybody in the whole town had a fur coat but me," Salyers said.

So, Salyers made her own fur coat.

Because she had been writing the column for so long, she had some good contacts in the textile business. As a result, she was able to get her hands on good quality faux fur.

"People would just marvel at that coat," Salyers said. "After about four or five years I'd worn that coat so many times and so many people had tried it on, and I thought I'm getting rid of it and I'm buying a fur coat today."

But, as it turned out, Salyers plan changed with the turn of a radio dial.

Salyers was listening to radio commentator Paul Harvey talk about a toy manufacturer in London who took litters of kittens, skinned them, then used their fur to make teddy bears.

"I thought, I don't want a fur coat," Salyers said. But she wanted the look of fur, and she thought others might, too.

Salyers bought an ad in a sewing publication and sold sewing kits for her fur coat. In 1989, her first year of business, she earned $300,000. This year, Fabulous Furs will earn more than $10 million.

Celebrity List

"Do you know who Ice T is?" asked Salyers. "I didn't."

But Salyers soon found out, when the rap star became a customer. As it turns out, Ice T and his wife Coco purchased three custom bed throws from Fabulous Furs for their home which was featured on MTV's "Cribs," a television program that gives viewers a glimpse into celebrities' far-from-humble abodes.

Fabulous Furs established celebrity appeal early on. Actress Loretta Swit of the sitcom M*A*S*H contacted Salyers after reading about her in an article in the San Francisco Chronicle.

"She read about us in the Chronicle and said, 'I want one of your coats, but I don't know how to sew,'" Salyers recalled. "I told her I'd turn it over to the ready-to-wear department. So, of course I'm in my kitchen making it that night."

Swit showed the coat to her friend, actress Stefanie Powers, who contacted Salyers and asked her to bring some of her coats backstage while she was in town performing "Love Letters." . . .

Los Angeles Times
January 22, 2006
By Jube Shiver, Jr
Celebrities Capitalize on Star Power in D.C.
More performers are lobbying about issues unrelated to their day jobs. The famous get their egos stroked, while their causes receive publicity.
WASHINGTON — In four decades as a guitarist with such iconic rock bands as the Byrds and Crosby, Stills, Nash & Young, David Crosby played in front of millions of fans at such venues as Woodstock, the Fillmore East, the Hollywood Bowl and London's Wembley Stadium.
Lately, one of his regular gigs has been at one of the nation's most elite clubs: the U.S. Senate.
Last year, the shaggy-haired, 64-year-old musician donned a suit in lieu of his usual bluejeans to lobby the Senate Committee on Indian Affairs, seeking to thwart plans to expand Chumash casinos and commercial developments near his home in the tranquil Santa Ynez Valley in Santa Barbara County. On another occasion, Crosby opined to lawmakers on campaign finance reform.
"Being a celebrity cuts both ways in Washington," Crosby said. "In some ways it gets you access. But in other ways it makes people dismiss you. You have to be insanely careful about what you say."
Crosby is part of a growing parade of celebrities trekking up Capitol Hill to talk to the nation's lawmakers about issues that rarely have anything to do with their day jobs. Trying to get attention for pet causes easily lost in the clutter of public policy debates, stars hope their cachet can make the difference in opening doors, getting media attention and scoring face time on C-SPAN.
During the last year, Washington's show has starred actress Salma Hayek testifying before the Senate Judiciary Committee on domestic violence about how she became familiar with the issue researching a movie role. Jazz musician and New Orleans native Wynton Marsalis told the House Subcommittee on Economic Development, Public Buildings and Emergency Management how important it was to rebuild after Hurricane Katrina.
Actress and AIDS activist Ashley Judd spoke to the Senate Foreign Relations Committee on the need to develop an HIV vaccine for Africa. Actor Don Cheadle, who starred in the movie "Hotel Rwanda" set in that country's 1994 civil war, joined five members of Congress on a fact-finding mission to learn about refugees in Sudan.
When it comes to hobnobbing with lawmakers, U2 frontman Bono ranks as Washington's reigning celebrity lobbyist. House Minority Leader Nancy Pelosi (D-San Francisco) is a frequent guest at the band's concerts. In October, Bono lunched for 90 minutes with President Bush at the White House, where the two discussed debt relief, AIDS, malaria and world trade, White House Press Secretary Scott McClellan said.
"More and more celebrities are lobbying for particular causes," said Darrell West, a professor of political science at Brown University and author of the book "Celebrity Politics." "They attract the TV cameras, and celebrities are great fundraisers."
For celebrities, testifying and lobbying in the nation's capital offers the ego stroke of being taken seriously on important issues, and a chance to make headlines for something other than their latest loves or public mishaps.
In an e-mail to the Los Angeles Times, actress Mary Tyler Moore said her lobbying on behalf of the Diabetes Research Foundation stemmed from her own experiences as a diabetic. Having the disease "has fueled my desire to help … find a cure," Moore said.
After actor Michael J. Fox testified on Capitol Hill in 1999 about his battles with Parkinson's disease, lawmakers urged the National Institutes of Health to intensify the government's search for better treatments. Since then research grants for Parkinson's have jumped more than tenfold from $25 million to as much as $300 million this year, said Robin Elliott, executive director of the Parkinson's Disease Foundation.
"In a television culture, celebrity has become crucial to advancing all kinds of causes," Elliott said.
But it also can often backfire when it appears a celebrity is simply fronting for an issue in which he or she has no special expertise.
In 2002, Sen. George V. Voinovich (R-Ohio) walked out of a Senate subcommittee hearing on the environmental effect of mountain mining when Kevin Richardson, a Kentucky native and member of the Backstreet Boys singing group, was called as a witness. Voinovich told reporters the proceedings had turned into "a joke."
Lou Diamond Phillips, star of such films as "La Bamba" and "Young Guns," said it was unfair to assume celebrities were unqualified to testify. Phillips said he met resistance when he testified in 2002 about extending veterans benefits to Filipinos who had fought in World War II. Phillips is part Filipino and the son of a war veteran.
"It upsets me that people don't think we have the right to speak out," Phillips said in an interview. "We are citizens like everybody else. I made it certain to the senators that I was no carpetbagger."
When Crosby testified last summer on the tribal development plans, Connecticut blogger Edward Janusz questioned his qualifications.
"Mr. Crosby seems like an intelligent person," Janusz said in an interview. "But I'm more inclined to listen to people who are personally involved and have some expertise."
Congressional hearings for decades were mostly dominated by nondescript government, industry and academic experts. Stars called to testify typically were asked about issues directly related to the entertainment industry, such as when the House Un-American Activities Committee in the 1940s investigated alleged Communist infiltration of Hollywood.
Credit former top Hollywood lobbyist Jack Valenti and Washington lawyer Michael Gardner with helping demonstrate during the 1980s the clout celebrities could have on Capitol Hill. They mobilized some of Hollywood's biggest names to counter government efforts to end financial syndication rules that forbade broadcasters from owning any of the TV programs they aired.
Valenti squired Warren Beatty,
Stefanie Powers, Charlton Heston and Kirk Douglas to Washington to testify, lobby and pose for snapshots with star-struck lawmakers.
Gardner took Mary Tyler Moore, Alan Alda and Jean Stapleton to make the rounds of federal regulators who were siding with the TV networks in favor of the rule change.
In the end, the beleaguered television networks were outmatched by Hollywood's star power.
Financial syndication rules were preserved for nearly a decade before a judicial ruling ended them in the early 1990s.
Valenti, who retired in 2004 as head of the Motion Picture Assn. of America after 38 years, has a relatively simple explanation for why celebrity testimony can be so effective: Congressional hearings are dreadfully dull.
"Most people come in and duck their heads and read their testimony and leave no lasting impression," he said.
But by virtue of their star power and training, Valenti said, "actors can give Oscar-winning performances."
The Desert Sun
February 7, 2006
Kimberly Nichols
A record number of 1,650 guests, including emcee Debbie Reynolds and celebrity presenters Shirley MacLaine and Angela Lansbury, turned out for the Desert AIDS Project's 12th annual Steve Chase Humanitarian Awards Saturday at the Palm Springs Convention Center.
Jazz and Broadway singing stars Ann Hampton Callaway and her sister Liz Callaway were flown in from New York at the last minute to perform their classy show, "Sibling Revelry."
They provided seamless companionship to the already star-studded roster of HIV/AIDS supporters.
It was MacLaine's second appearance in Palm Springs in 40 years after breaking the drought as an honoree at last month's Palm Springs International Film Festival. Besides coming from her home near Santa Fe, N.M., to support a good cause, she said she was well treated on her last visit.
"I've had contour wraps and massages in places I didn't know I had," MacLaine said.
A simple and elegant cabaret themed room of black, white and red décor provided a sense of intimacy. A sea of black and white tuxes and flashy ball gowns lent a touch of New York to the highly-anticipated annual event that raises money for people in the Coachella Valley living with HIV/AIDS.
"The best part of this evening is the fact that every penny, for everything from staples to stamps, was underwritten by generous people," said co-chair Bill Jones, owner of Carousel Catering. "We will raise an unprecedented $700,000 tonight, all going directly to DAP client services. We live in a community that has the most incredibly generous people I have ever seen in my life. They give of themselves and their money and their time unlike I have ever seen. Without them, this evening would never happen."
These underwriters include Wells Fargo, Earl Greenburg and David Peet, Private Bank of North America, Harold Matzner, Agua Caliente Band of Cahuilla Indians, Tom Bombardier and John Fowler, Walgreens, John Bowab, Tim Hanlon and Anthony Klatt, Jim and Jackie Lee Houston, Bill Jones, Bob Jones of Davey's Hideaway, Virginia Milanovich, Joseph Roman and Mark Wilson, and Union Bank of California.
Co-chair Tim Hanlon, who is the president of Wells Fargo Foundation, said "We at Wells Fargo wanted to cement our relationship with DAP and build on our already successful partnership with the organization that houses the Wells Fargo HIV Health Center."
The fundraising didn't stop. At two points in the evening, surprises were announced. Susan Unger, a DAP board member, announced the inception of DAP's 100 Women donor club, which is made up of women leaders across the valley that include Peggy Cravens, Dr. Wendy Roberts, Edra Blixseth and Assemblywoman Bonnie Garcia. A check was presented to roaring applause as members of the 100 Women Founders Circle stood throughout the room.
Reynolds set the jovial tone for the evening when she appeared to welcome guests while they dined on bleu cheese salad wedges. As she introduced co-chairs Bill Jones and Hanlon, photos of the two men flashed on the screen, only Hanlon's was a photo of his drag queen alter ego Summer. "Oops," said the voice of god from the wings. This set the tone for the night, which was all about a diverse community of gay and straight gathering together in hopes to combat the chronic disease of HIV/AIDS with humor, dedication and companionship.
Lansbury presented the Arts & Activism Award to Tom Viola of New York's Broadway Cares. Russ Russell, DAP board president, gave the award to Partners For Life honoree Dr. Burt Fogelman who volunteers daily at the organization. Bill Jones introduced the Warner Engdahl Community Service Award to Marv and Carol Sholl, saying, "Marv is the kindest, gentlest man I know married to the classiest broad I have ever met in my life."
The Sholls, whose son Barry died from complications from HIV/AIDS, have been involved with DAP as volunteers and donors for more than a decade.
A dinner of Asian braised short ribs was followed by a performance by Erasure. At a VIP cocktail party the night before the Chase at the Palm Springs Art Museum, Erasure lead singer Andy Bell mentioned that he had watched AIDS devastate his close community of friends, and that he was thrilled to be in Palm Springs donating his time for the organization's efforts.
"Andy and Paul (Hickey) and Vince came all the way from London for free to be here tonight," said Bill Jones. The band performed their best-loved hits "Chains of Love," "Savannah Song" and "Respect" to a cheering crowd. MacLaine then took the stage to award Dr. Mathilde Krim with the Science and Medicine Award. Krim is a founder of amFAR, the American Foundation for AIDS Research. The Callaway Sisters topped off the gala with a performance as guests mingled and drank coffee before heading home.
Also in attendance were Michael Childers, Mayor Ron Oden, EQCA Executive Director Geoffrey Kors, Patrick Mundt and Mike Hutchison of Contempo Homes, Denise Brown, Jaime Kabler, Arlene Rosenthal, comedian Bruce Vilanch, actors Stefanie Powers and Tippi Hedren and Palm Springs Art Museum Executive Director Janice Lyle.
February 15, 2006
ROCKFORD FILES, THE – SWING INTO SUMMER WITH MORE ROCKFORD!
Posted by David Lambert
The Rockford Files – Season 2 is coming to DVD on June 13th. Suggest Retail Price is 39.98 for a 3-DVD set with 22 episodes from 1975-76 presented in the original full screen video. James Garner starred in this Stephen J. Cannell series, and the second season had gobs of guests like Ken Swofford, Linda Evans, Gerald McRaney, Joe E. Tata, Robert Hays, Dana Elcar, Boble Willingham, Bruce Kirby, Stefanie Powers, Joan Van Ark, Charles Napier, Stacy Keach Sr., Isaac Hays, Dick Butkus, Rob Reiner, John Saxon, Michael Ansara, William Daniels, Ron Silver, Louis Gossett Jr., Jayne Kennedy, Veronica Hamel and Gordon Jump.
We'll be back in the not-too-distant future with more details and cover art, just as soon as Universal provides them. Stay tuned!
Feb 15, 2006
Court TV
QUINTANA'S LITIGIOUS PAST UNDER FIRE
PARIS HILTON is not the first celebrity BRIAN QUINTANA has accused of harassment, in the 1990s he hit HART TO HART star STEPHANIE POWERS will similar legal action - but he denies making a habit of lawsuits.
The celebrity socialite was slapped with a restraining order at Los Angeles Superior Court last week (07FEB06), after complaints from promoter Quintana that she'd branded him a "lazy Mexican" and was ruining his business.
In 1995 Quintana sought a similar judgement against Powers when he worked for a charity linked to the flame-haired actress, insisting she would get him drunk and force him to get into bed with her.
Just as Quintana claimed Hilton made threatening calls warning him to stay away from her boyfriend STAVROS NIARCHOS, the party organiser said he began to receive threats from Powers' entourage.
He told US tabloid the Globe in 1995, "The calls said, 'Watch your back.' He warned, 'You should be - you're a dead man. You sure messed with the wrong woman.'"
Quintana is adamant he takes no pleasure from filing lawsuits against celebrities.
He tells the New York Daily News, "That's ridiculous. It advances my business in no way, and it actually hurts it.
"Look at how litigious Paris is and how many criminal investigations there are involving her. You know, this is the MO (modus operandi) of numerous celebrities who think they're above the law and the little guys who should just go away."
Quintana's case against Powers was dropped when Powers submitted legal documents proving she was overseas for most of the period Quintana claimed the abuse took place.
New York Daily News
February 15, 2006
by Rush & Molloy
Here's why a fight with Paris invokes separation of Powers
Hold the phone! The messages Brian Quintana claims Paris Hilton left seem similar to ones he says he got 10 years ago.
Los Angeles party promoter Brian Quintana claimed victory last week when a judge granted him a restraining order against Paris Hilton. But for Hollywood scenesters with long memories, the whole situation seemed somewhat … familiar.
Ten years ago, Quintana sought a restraining order against Stephanie Powers, claiming the "Hart to Hart" star groped and battered him and forced him to have sex.
At the time, Quintana was working loosely with a charity headed by the actress, and said she would ply him with booze and force him into bed with her. Then he said he started getting threatening phone calls, similar to those he claims to have had from Hilton and her pals recently.
"The calls said, 'Watch your back,'" Quintana told the Globe about Powers in 1995. "He warned, 'You should be — you're a dead man. You sure messed with the wrong woman.'"
Some insiders have snarked that Quintana gets a kick out of filing claims against people more famous than he is.
"That's ridiculous," Quintana retorted. "It advances my business in no way, and it actually hurts it. Look at how litigious Paris is and how many criminal investigations there are involving her. You know, this is the M.O. of numerous celebrities who think they're above the law and the little guys who should just go away."
Powers produced affidavits proving she was out of the country during most of the period Quintana alleged the abuse, and the restraining order was dropped soon after.
In 1998, Quintana clashed with the family of the late Pedro Zamora, a "Real World" cast member who died of AIDS in 1994. Quintana claimed to have befriended Pedro and joined the board of directors of his AIDS charity, but soon after Zamora's death, his friends and family said Quintana was running the charity against their wishes and siphoning off money. The Zamora family was also displeased with a sexual assault investigation involving Quintana. A gay acquaintance of Quintana's claims Quintana "placed his hand inside me" when he refused him sex.
But the party promoter asserts, "I have never been convicted of anything sexual in behavior."
He does admit that he was arrested for assault with a deadly weapon after trying to mow down his landlord and two friends with his car during a rental dispute.
"I've made some mistakes and I've done my penance," he says.
Paris' attorney Howard Weitzman advised her not to appear in court so "she wouldn't lend credibility to Quintana, and to avoid a media circus," says a source.
Real royalty? Who's countin'?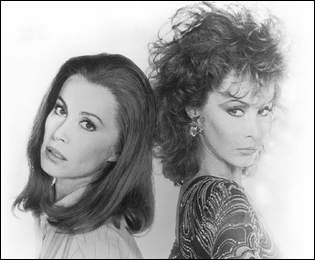 Saturday, March 11, 2006
Courier-Journal (KY)
Double the fun
By David Inman
Dear David: Several years ago I saw a movie with Stefanie Powers playing a dual role as twin sisters who switched identities. In one scene she danced to the song "I'm So Excited." Can you please tell me the title and if this movie is available on VHS or DVD? -- Mary Jo, by e-mail
Dear Mary Jo
And what could be more exciting than Stefanie Powers dancing to the music of The Pointer Sisters?
That's the 1985 TV movie "Deceptions," with Powers as Sabrina Longworth. Oh, and also as Stephanie Roberts! Oooooooh! The cast also includes Jeremy Brett and Barry Bostwick. It's on DVD.
ic coventry.co.uk
North Warwickshire
March 24, 2006
News North Warwickshire Article
Stefanie's Hart to Hart with giraffes
By SiБN Powell
INTERNATIONAL movie star Stefanie Powers brought a little Hollywood glamour to Twycross Zoo as she launched a new Conservation Welfare Fund.
The £1million fund has been set up by the zoo to champion wildlife projects which look after the health and welfare of animals both in captivity and in the wild.
Ms Powers, the star of TV's much loved Hart to Hart, has been involved in wildlife conservation as president of the William Holden Wildlife Foundation and a supporter of the Jaguar Conservation Trust set up by Jaguar Cars.
Zoo director Suzanne Boardman said: "Twycross Zoo has a strong history of supporting projects that relieve suffering of wild animals as well as supporting the conservation of species.
"We feel we must support animals in their wild habitats.
"Some projects we can, and do, support through providing expertise, others by giving good PR but yet others need money to be able to achieve their goals.
"To increase the level of support we are able to give we have decided to set aside £1 million as a fund."
Each year the interest on that £1million will support projects and each year it will be added to by charitable profits.
Mrs Boardman added: "We want to see the fund grow and to be able to help projects vital to species conservation and welfare to achieve their aims.
"Most important we wish to help animals recover their numbers in the wild and to help protect their habitats."
Money will be targeted at projects which support primate species and the zoo hopes that by 2020 the fund will have helped secure the future of no fewer than five endangered primate species in the wild.
Those projects could encompass areas such as animal management, veterinary care, support for rehabilitation and reintroduction programmes and support for projects dealing with large-scale wildlife welfare problems
Saga, UK
Health News
April 13, 2006
Move into Pilates
A gentle form of exercise that anyone can enjoy: pilates promotes muscular strength, balance and flexibility.
"If I could do only one exercise programme it would be pilates," says actress Stefanie Powers. "It's as if you're building something from the inside out. You don't just get out of a chair, you spring out of a chair, you have this tremendous support."
There are around 500 different movements in total although few people learn all of them. Pilates shares some of the principles of yoga, being a fusion of eastern and western ideas and designed to stretch and lengthen muscles in a way that's entirely non-competitive. You learn at your own pace, gradually building up your stamina, strength and suppleness. As well as correct breathing technique, pilates involves developing balance, physical co-ordination, body positioning and spatial awareness while improving strength and flexibility. Each movement should flow into the next and practising the sequences on a regular basis will soon have a noticeable effect on your stamina and cardiovascular fitness. It will also tone your body, improving your shape without giving you bulging muscles.
While anyone can benefit from learning pilates, it is especially good for people who have not been used to physical activity or who may have had problems with back or joint injuries in the past. Although most classes and teaching videos concentrate on fitness pilates, some teachers also specialise in rehabilitation pilates, designed specifically to help those with joint or other musculo-skeletal problems.
If you are learning pilates at home, you will be doing 'floor mat' exercises, at least to begin with. These involve bending and stretching in a slow, controlled way with your body in the correct alignment and utilising the muscles deep within the abdomen. Should you find that you really enjoy pilates, you may later want to buy one of the special pieces of equipment often used by professional teachers or join a class where these are available. One of those most widely used is the 'reformer,' a kind of sliding carriage which is used for pushing and pulling movements, incorporating foot bars and leg and arm pulleys. Either way, the aim is to exercise the whole body, with emphasis on coordinating the muscles in the abdominals and back while integrating overall trunk, pelvic and scapular stabilisation. As well as its clear physical benefits, pilates promotes mental and physical relaxation and can help to resolve minor injuries. To get the maximum benefit from the exercises, you should aim to practise about three times a week and, even if you're not normally keen on exercising, you may well find this is something you really enjoy.
For further information, contact:
The Body Control Pilates Association,
14 Neal's Yard,
Covent Garden,
London
WC2H 9DP

Tel: 020 7379 3734
Fax: 020 7379 7551
For more information, click here to visit the bodycontrol website.
USA TODAY
April 17, 2007
Hollywood Hero Award Honors a Los Angeles Area Entertainment Personality Who Has Made Remarkable Contributions of Time and Energy to Help Those Less Fortunate
Actress, dancer, choreographer Zina Bethune will be honored May 17 as the first recipient of The USA TODAY Hollywood Hero Award. The award recognizes her outstanding contributions to the community through Infinite Dreams, a program of the multimedia Bethune Theatredanse company.
Bethune and Infinite Dreams will be feted at an award gala on the evening of May 17 at The Beverly Hilton hotel in Beverly Hills, Calif. Grammy(R)- nominated and Jazzweek Vocalist of the Year, The Tierney Sutton Band, will perform at the Gala. Guests include: Martin Landau, Edward James Olmos, Tippi Hedren, Esai Morales, Ray Bradbury, Tara Lipinski, Roscoe Lee Browne, Julie Newmar, Reni Santoni, STEFANIE POWERS, Veronique Peck, Alison Angrim, Tracy Newman, and James 'Gypsy' Haake.
In an effort to raise funds for the Infinite Dreams program, net proceeds from the event will be donated to Infinite Dreams. Funds will be obtained through ticket sales and silent auction of valuable merchandise.
Infinite Dreams, a dance and drama outreach program, is an acclaimed education and performance program that provides children and teens with disabilities an opportunity to affirm their capabilities by participating in the world of movement and dance. It is the only program of its kind under the auspices of a professional dance company.
"By participating in the arts these student challenge themselves and achieve amazing success," said USA TODAY President and Publisher Craig Moon. "The Infinite Dreams program helps its students develop confidence, which in turn instills in them an affirmation of their own unique capabilities and enriches their quality of life. Zina Bethune and Infinite Dreams embody the spirit of The USA TODAY Hollywood Hero Award."
Infinite Dreams, which launched in 1983, serves more than 1,000 children from the ages of 4 to 16 at nine sites in Southern California. The program has graduated more than 6,200 students.
"The art of dance can really transcend all the physical and stereotypical limitations," said Bethune, artistic director of Bethune Theatredanse and Infinite Dreams. "After all, the spirit isn't disabled. Dance is not how far a child can reach their legs or arms. It is the creation, the sharing, and the partaking that is the beauty. We don't ask, 'How much can you move?' We say, 'Come dance with us.'"
Infinite Dreams has been cited as an exemplary organization by the National Endowment for the Arts and is a recipient of commendations from Presidents Ronald Reagan, George H.W. Bush and Bill Clinton; L.A. Mayors Tom Bradley, Richard Riordan and James Hahn; and a recipient of the U.N.'s "Medaille d'Excellence."
In what will become a USA TODAY signature event, the USA TODAY Hollywood Hero Award will be presented annually to an entertainment personality who has made remarkable contributions of time and energies with a non-profit organization, and has truly enriched the quality of life of others. The USA TODAY Hollywood Hero Award recipient will be unique in that his or her efforts extend far beyond a charitable contribution or simply lending one's celebrity to enhance a cause or concern.
May 8, 2006
Star Telegram
by Ed Brice
A little 'Hart to Hart' talk about couple on TV commercial
Q: Who is the woman in the Sierra RX commercial (for Medicare prescription drugs)? It generally comes on during Wheel of Fortune. We think the man is Robert Wagner.
-- W.Y., Bedford
A: That is Robert Wagner, and that woman would be Wagner's ex-partner in solving crime: Stefanie Powers, who co-starred with him in the popular 1970s and '80s TV series Hart to Hart. The series' first season was released on DVD last fall. Couldn't find a word about the second season, so don't write and ask. Please.
Hey, I'd almost forgotten the two reunited in the '90s for a series of made-for-TV movies, movies with seriously bad puns in their names: Home Is Where the Hart Is, Crimes of the Hart and Till Death Do Us Hart. People get paid to write this stuff? Of course. I mean, I get paid. How wild is that?
eMediaWire
May 8, 2006
Make-A-Wish Foundation of Greater Los Angeles' "Uncork A Wish" Wine Tasting and Auction at the Pacific Design Center features celebrities, fine wine, top restaurants, and amazing auction items. Presented by The Wine House and Charter Communications, the 13th annual "Uncork A Wish" Wine Tasting and Auction is one of the largest wine tasting and auction events in Los Angeles County. Benefiting the wish fulfillment efforts of the Make-A-Wish Foundation of Greater Los Angeles for children in Los Angeles with life-threatening illnesses, the night will unfold on Saturday, May 13, 2005 inside Pacific Design Center in West Hollywood beginning at 6:30 p.m., with the live auction slated for 9 p.m.
Los Angeles, CA (PRWEB) May 8, 2006 -- Presented by The Wine House and Charter Communications, the 13th annual "Uncork A Wish" Wine Tasting and Auction is one of the largest wine tasting and auction events in Los Angeles County. Benefiting the wish fulfillment efforts of the Make-A-Wish Foundation of Greater Los Angeles for children in Los Angeles with life-threatening medical conditions.

The night will unfold on Saturday, May 13, 2005 inside Pacific Design Center in West Hollywood beginning at 6:30 p.m., with the live auction slated for 9 p.m.

Celebrities currently scheduled to participate in this year's event include: Teri Hatcher, Penny Marshall, Macy Gray, Micky Dolenz, Steven Cojocaru, Matt Gallant (American Inventor), Gregory Itzin (24), Ashley Jones (The Bold and the Beautiful), Kathy Joosten (Desperate Housewives), Kate Linder (Y&R), Roma Maffia (Nip/Tuck), Marianne Muellerleile (Passions/Thank you for Smoking), Stefanie Powers, Constance Ramos (Extreme Makeover: Home Edition), Christopher Rich (Reba), Emmanuelle Vaugier (Two and a Half Men), and Constance Zimmer (In Justice).

"Everyone is very excited at all the wonderful aspects of the event that have been brought together this year," said Cheri Lauterbach, director of development for the Make-A-Wish Foundation of Greater Los Angeles. "From our celebrity guests to the delectable assortment of food and wine being served to the wide array of exciting auction items, we have something that will appeal to our guests' range of tastes and interests."

The Wine House has brought together more than 80 participating wineries including: Boony Doon, Campion Winery, Charlone, Cobblestone, Domaine Carneros, Fife Vineyards, Honig Vineyard, Longoria, Marengo Moscato, Patz & Hall Wine Co., Piper-Heidsick, Saddlerock Vineyards, Torre Oria, and Trefethen Vineyards.

Adding to the night's festivities, Carving Ice will once again create a one-of-a-kind ice sculpture masterpiece that will serve as the martini bar, featuring celebrity bartenders and Belvedere Vodka supplied by Pacific Wine and Spirits. Guests who arrive during the first hour of the event will be offered a glass of Veuve Clicquot Rosé Champagne and Glen Morangie Scotch Whisky will also be available for tasting throughout the evening. New this year will be a sponsor's lounge with an array of European beers supplied by the INBEV Corporation.

Top Los Angeles restaurants serving sumptuous tastes of their finest cuisine include: BOA Steakhouse, Sushi Roku, Crustacean, Water Grill, Locanda del Lago, Arnie Morton's of Chicago, Cheese Store of Beverly Hills, Noe, San Gennaro, Mr. Cecil's Ribs, and Pink's Famous Hotdogs.

During the live and silent auctions, guests can bid on hundreds of fantastic items including:

A trip for two to a private Mexican villa for seven nights including round-trip airfare.

A three night trip to New York for two that includes round-trip airfare, hotel and two tickets to a taping of Saturday Night Live.

A trip for six to Napa Valley in a private jet for a winery tour and dinner at the French Laundry.

A fashion-tastic trip to New York including airfare, three nights at a Hilton Hotel and four tickets to the season three fashion show FINALE of Bravo's "Project Runway" hosted by Heidi Klum.

Fabulous artwork including a painting that will be created live by noted artist Thom Bierdz.

Special behind-the-scenes access at Disney Imagineering
Tickets to American Idol including a meet and greet with Ryan Seacrest.

A fully stocked, 48 bottle wine refrigerator.

A shopping experience with Steven Cojocaru, Entertainment Tonight and The Insider correspondent and fashion guru.

A flight in a World War II biplane.

A birthday party for six at American Girl Place at The Grove.

Presenting sponsors, Charter Communications and The Wine House are joined by sponsors Northrop Grumman, Cars 4 Causes, TMC, Hilton Hotels, Wells Fargo, Rollz Royce Limousine Service, The Walt Disney Company, PricewaterhouseCoopers, Deloitte and Touche, Capital Source, Pelican Products, City Art, GES Exposition Services, LA Magazine, Carving Ice, INBEV, and Fuji Water.

Members of the honorary committee for the 13th annual Uncork A Wish Wine Tasting and Auction are: Giovanni Agnelli, Antonio Banderas, Catherine Bell, Halle Berry, Kobe Bryant, Ted Danson, Tony Danza, Matt Gallant, Brad Garrett, Macy Gray, Melanie Griffith, Steven Grossman, Lisa Wade Grossman, Ed Harris, Mark Itkin, Renee Jones, Kathy Kinney, Andie MacDowell, William Petersen, Kelly Preston, Luc Robitaille, Pantera Sarah, Jessica Simpson, Sharon Stone, Kiefer Sutherland, Naomi Watts, Bradley Whitford, and Noah Wyle.

Conceived as a Valentine's Day celebration at the Santa Monica Airport's Museum of Flying in 1993, the wine tasting and auction fundraiser quickly outgrew that location and was moved into the Airport's Barker Hangar four years later, where it remained until the decision was made to move to the more centrally located Pacific Design Center this year. Attended by approximately 1,500 people annually, the funds raised have been used to fulfill hundreds of wishes for children with life-threatening medical conditions.

The Pacific Design Center is located at 8687 Melrose Avenue, West Hollywood, California 90069-5701. General Admission tickets are $125 in advance and $150 at the door. Wine and food tasting is included in the price of admission. Guests must be 21 or older to be admitted into the event. For more information, visit http://www.wishla.org or call 310-899-9191.

About the Make-A-Wish Foundation of Greater Los Angeles

Established in 1983, the Greater Los Angeles chapter of the Make-A-Wish Foundation grants wishes to children throughout Los Angeles County who are battling life-threatening medical conditions. Working out of an office in West Los Angeles, the chapter has granted over 5,500 wishes to children countywide. For more information about the Make-A-Wish Foundation of Greater Los Angeles go to http://www.wishla.org or call 310-788-9474.
May 10, 2006
Star Telegram
by Ed Brice
Stefanie and Jill, you are red-headed strangers to me
Q: You're going to get about a million letters on this, but I can't resist being 1,000,001.
The woman in the Sierra RX commercials is Robert Wagner's wife, Jill St. John. Call me irrational, but I like you better for occasionally screwing up.
-- G. J., Fort Worth
A: Ya know, I can always tell when it's you, Mom.
G.J.? Honestly. And you don't live anywhere near Fort Worth anymore.
Yeah, yeah, yeah. I got it so wrong in Monday's column. It's Jill St. John, Robert Wagner's real-life wife working with him in the Sierra RX commercial, not Stefanie Powers, his Hart to Hart wife.
So to the dozens of funny, supportive, irate, snotty and pleading responses to my goof, I submit the following: Yeah, Jill St. John was a Bond girl. Yeah, she married Bob in May 1990. Yeah, she came to Fort Worth with Bob to perform Love Letters at Casa Mañana a couple of years ago. Yeah, she reportedly once had an IQ of 162.
No, I don't want to tell the world what my IQ is, Mom. I always knew you loved Bubba more than me.
May. 12, 2006
Star-Telegram
by Ed Brice
'Fastest' questions can be the quickest route to disaster
Q: I was told the fastest train in the world goes more than 300 mph. Is that true? R.K., North Richland Hills
A: You know, when you've been at this answer game as long as I have, certain words just make your teeth hurt. Words like "longest," "strongest," "tallest" and "Stefanie Powers." I keep special painkillers on hand for the phrase "fastest (fill in your favorite noun here)." And for the name "Jill St. John." Man, I really hate that one.
What I can tell you is that China reportedly operates the world's first commercial high-speed maglev train, and has for more than two years. That's "magnetic levitation." I was never a big fan of The Jetsons, so I really don't understand the technology involved here. Something about train cars riding on cushions of air, using magnets instead of wheels and costing gazillions of dollars (or yen, in this case).
According to a report in the online newspaper Guardian Unlimited, the Shanghai maglev can hit a top speed of 430 kilometers -- that's 267 miles -- per hour in under two minutes. That's with people and luggage and such. Maglevs have broken 500 kph (310 mph) in test runs. Last month, Japan unveiled the Fastech 360Z, sort of the "next generation" of its celebrated Shinkansen bullet trains.
According to physorg.com, its developer, the East Japan Railway Co., hopes the Fastech will run at 360 kph (224 mph) during a normal trip. Why? Because that would break the record set by the world's fastest wheeled train, France's TGV, which runs at everyday speeds of about 300 kph (186 mph). The Fastech and the TGV are not maglevs, but Japan is working on one.
Willamette Week Online
May 31, 2006
CASTING COUCH
The re-opening of the Hotel deLuxe (formerly the Mallory Hotel) was the place to be last Wednesday night, as Portland's movers and shakers lined up to throw back free booze while rubbing elbows with Ted "Still the Governor" Kulongoski, and actors Robert Wagner and Stefanie Powers (because Cary Grant and Katharine Hepburn are dead).
The biggest changes to the 93-year-old hotel? Owners Aspen Hotel Group, which also owns Portland's Hotel Lucia, added a new silver-screen theme and—it looks like—went on a major cleaning binge. And yes, as promised, the management has also reopened the hotel's beloved Rat Pack-style bar, the Driftwood Room.
June 2, 2006
The Oregonian
by Melanie Conner
Mallory sweats, Wagner chills
Robert Wagner and Stefanie Powers Sign autographs for Steven Steinbock; Todd Widme watches from behind. Robert Wagner has the meet-and-greet down: the upper arm squeeze, the mid-arm pat, the mid-back pat, the elbow grip, the shoulder pat with a flat hand and, if you're really lucky, the handshake and hold.
It's last week's grand opening celebration at the Hotel deLuxe (nee Mallory Hotel), and Wagner is here with Stefanie Powers to grace the place with a bit of swank. He is wearing a crisp black suit with a royal blue handkerchief in the breast pocket, and every hair on his head has been arranged just so. Nearby, Gov. Ted Kulongoski is chatting up Powers.
"She's Polish!" he announces delightedly to the crush of partygoers. It's so packed and hot that people's upper lips glitter with a fine glaze of sweat. Except for Wagner. He's not sweaty at all. Maybe it's the ice water he's been nursing.
The lobby is old scrumptious Hollywood. Mirrored tables, quilted walls, a decadent arrangement of orchids, at least one man in an ascot. In The Screening Room, Fred and Ginger dance in black-and-white grandeur, the aspect ratio of the film a setting off, so that they are just a smidgen shorter and fatter than they should be. A mirrored wall in the lobby reflects the crowd, fractured images of glittery sandals, flat-ironed hair, suits, camera flashes, sweaty necks and Robert Wagner.
Shoulder pat. Arm squeeze.
A woman's lens cap gets caught in my hair as she tries to get a picture of him. "I'm sorry," she says, and she lifts her camera higher over my head.
On a flat screen image behind us, Ingrid Bergman and Humphrey Bogart lean in toward one another. It's the flashback scene from "Casablanca." Paris. The Nazis wore gray. You wore blue. Stefanie Powers wore black.
In the Driftwood Lounge, the Mallory's beloved dive bar, little has changed. Except now, everyone is drinking chardonnay.
Monday, June 12
MovieWeb
HOLLYWOOD BEAT: Makin' Magical Music
Marci Weiner
Zina Bethune has realized a remarkable career as a dancer, actress, director and choreographer, while faced with serious physical disabilities. For 25 years, Bethune Theatredance, program for disabled children has performed for international audiences at the White House, a PBS Special, NBC, Kennedy Center, and tours to Japan, Switzerland, Italy and Chin. More than 6,000 graduates have participated in their programs, which enable children with disabilities to participate in the world of movement and dance.
Appropriately, Zina was selected as the first honoree of the USA Today Hollywood Hero Award at the Beverly Hilton. Special guests included Stefanie Powers, Tara Lipinski and James "Gypsy" Haake who jetted in from to emcee the show.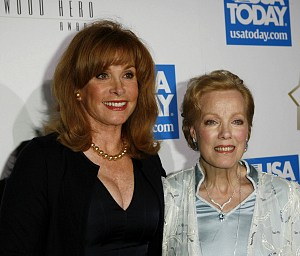 Stefanie with Zina Bethune
June 18, 2006
ST. LOUIS POST-DISPATCH
By Amanda St. Amand
A star shines on monument where honored have to pay
Movie buffs delight when they spot one of the 1,000-plus names carved in the gray granite slabs of the Veterans' Monument in O'Fallon. On the 37th line of the slab carved with the word "sacrifice" is the name William F. Holden.
The Oscar-winning actor who died 25 years ago earned the right to be listed on the monument by virtue of two facts: He served honorably in the military, and he once lived in O'Fallon. (He was born there in 1918.) Those are the requirements for names to be listed. Along with payment of $100.
Few, if any, veterans have complained about the charge, said Betty Osborne, who led the four-year effort to have the monument built.
Original plans for the star-shaped monument did not include having names carved on the pillars. So many of the veterans and relatives involved in the planning lobbied for adding names, that the committee changed signals. If 500 veterans came forward and were willing to pay $75, the monument would include names. The charge has since increased from $75 to $100 because it costs more to have the pillars engraved after they've been placed on the"It didn't take us very long to get to 500. We knew then the veterans wanted their names on those pillars," Osborne said.
A few families of veterans have complained that the city of O'Fallon should cover the costs of having veterans' names inscribed. The city donated the tract of land where the monument is located, in a subdivision called the Estates of Prairie Crossing. City employees maintain the site, too, said Pamala Funk, assistant city administrator.
Final numbers aren't in yet on the monument's cost, but Osborne expects it to be around $360,000. Volunteer labor defrayed some of the expense; the engraving fees raised more than $90,000; and individual donors gave an additional $70,000 for the monument. There is no rhyme, reason, chronological or alphabetical order to how the 1,128 names appear on the angled granite pillars. As the applications came in, names got added.
By an overwhelming margin, most of the names are men. Only five of the 15 pillars have any names at all, which means thousands more can be added in coming years. Bald spots near the concrete benches show the need for more grass seed. Since the monument was dedicated last month, Osborne has visited the site to make sure everything is in order. Several times, she's come across visitors sitting silently on the benches, lost in thought.
As for asking a veteran to pay to have his or her name included, a spokesman for the American Legion at its national headquarters in Indianapolis said similar efforts in other cities have operated the same way. One of the Legion's main objectives is to memorialize veterans, said Joe March, the spokesman. "When a town decides to build a memorial or a monument, that's good news to us," he said.
While he understands an occasional veteran may feel slighted by paying to be included, he cited the Legion's fundraising effort for the World War II Memorial in Washington. The Legion raised more than $4 million for that effort, and March said "every bit of it came out of our members' pockets."
The main pillar at the entrance is inscribed as "a continuing tribute to all veterans from the O'Fallon area who, in time of war and peace, honorably served this great country." The monument honors all veterans, Osborne said, regardless of whether their name is carved in stone.
Marilyn Spilseth is the widow of a veteran and the sister of two. She gladly paid to have her husband's and brothers' names carved on the monument, and even paid for one extra. William Holden.
"The young girls today who don't know him, I say do you know John Wayne? He was right up there with him, only better," Spilseth said. She served on the planning committee, which contacted Holden's family and onetime girlfriend Stefanie Powers to see if they wanted to sponsor Holden's name on the monument.
Neither his family nor Powers replied, so Spilseth stepped in. "I agreed to give him up if Stefanie Powers wanted him, but we didn't hear from her. So he's all mine."

June 18, 2006
The Post-Standard
Syracuse, NY
By Joan E. Vadeboncoeur
Wednesday marks 3 openings
A mystery, a farce and a beloved musical from the team of Rodgers and Hammerstein - take your pick. All three arrive on the summer theater season this week.
'Sleuth'
What starts as a friendly gin game between a mystery novelist and his wife's lover is placid. But that doesn't last long in Anthony Shaffer's "Sleuth," which premieres Wednesday at Ithaca's Hangar Theater.
The British import hit Broadway like a ton of bricks. It racked up 1,200 performances and won a Tony Award for best play.
The curtain rises on what is perceived as a friendly game of gin rummy.
Soon the twists and turns begin.
'It Runs in the Family'
Cortland Repertory Theater offers "It Runs in the Family," starting Wednesday. It comes from the prolific pen of Ray Cooney, who was writing madcap mayhem plays into his 90s.
The comedy begins when a doctor is practicing his speech for an international neurologists' convention and is propelled by the discovery from a former girlfriend that he has fathered a son.
The British farce also boasts a befuddled fellow physician and his status-seeking wife, a snippy head nurse, the hospital's chairman of the board and loony members of the hospital staff.
The central role of Dr. David Mortimore is played by Michael Schaefer. One of the other ensemble members is Syracuse-based actor Andrew Godwin.
'The King and I'
"We Kiss in the Shadow," "Shall We Dance?," "Hello, Young Lovers" and "I Whistle a Happy Tune" will fill Merry-Go-Round Playhouse in Auburn when it launches "The King and I" Wednesday.
The Rodgers and Hammerstein tunes flesh out the story of widow Anna Leonowens and her son trying to make their way in the Siam court of the title tyrant.
Ron Banks comes east from his California base to reprise the role of the arrogant ruler.
Anna is played by Eileen Ward, who understudied movie star Stefanie Powers for her national tour of the musical.
MovieHole, Australia
Aaron Spelling (1923 - 2006)
Posted by Clint Morris on June 24, 2006
A sad day in TV land, my fellow tube watchers. Aaron Spelling, considered to be one of the most prolific television producers of our times, has died, aged 83.
Spelling died at his mansion in Los Angeles after suffering a stroke on June 18, according to publicist Kevin Sasaki, says The Hollywood Reporter.
In the 1980s, Spelling reigned as one of the kings of television. In 1984, his seven series on ABC accounted for one-third of the network's prime time schedule, causing some to refer to ABC as Aaron's Broadcasting Company.
While he won two Emmy Awards -- one for outstanding drama in 1989 for "Day One," a TV movie about the Manhattan Project, and one for outstanding TV movie in 1993 for "And the Band Played On," an account of the early years of the AIDS epidemic -- Spelling was best known for his glossy, escapist TV series which ranged from "The Love Boat" and "Fantasy Island" to "Dynasty" and "Melrose Place" with occasional forays into more reality-based shows like "Family."
The Spelling touch was also seen in such popular series as "Charlie's Angels," which featured three, sexy female detectives, propelling Farrah Fawcett-Majors to stardom; "Starsky and Hutch," which paired Paul Michael Glazer and David Soul as two streetwise cops; "Hart to Hart," which focused on a glamorous married couple played by Robert Wagner and Stefanie Powers, who also solved mysteries; and "Beverly Hills, 90210," which famously featured his daughter Tori as one of a group of privileged high school students...
Spelling: The king of jiggle, a genius of TV
Sunday, June 25, 2006
Star-Ledger
Aaron Spelling rarely suffered for his art. But then, he rarely made art -- which was fine by him and by the millions of people who devoured low-nutrition hits like "Charlie's Angels," "Dynasty" and "Melrose Place."
The most prolific, successful producer in television history, who died Friday at 83 from complications from a stroke, did not build his infamous Los Angeles mansion -- 123 rooms, including a bowling alley and an ice rink -- on the backs of weighty dramas or sophisticated comedies. He amassed his huge fortune with an uncanny knack for giving the people what they wanted, whether it was sex, violence, glitz or all three.
His first big hit, 1963's "Burke's Law," cast Gene Barry as a playboy LA cop who also happened to be a millionaire with his own Rolls-Royce. His last hit, "Charmed," dealt with three beautiful sisters who battled evil, in constricting wardrobes.
In between, Spelling tried every iteration of his Rich, Pretty People With Problems formula.
Spelling's golden age occurred between 1975 and 1989, when he routinely programmed so much of ABC's schedule that the network was nicknamed "Aaron's Broadcasting Company."
The run began with "Starsky & Hutch," a cop drama that even 30 years later seems shockingly violent. He followed that with "Charlie's Angels," a detective series about three gorgeous, usually bra-less, private eyes who solved crimes while working for an unseen millionaire named Charlie.
Critics decried it as the end of civilization as we knew it -- neither the first nor the last time Spelling would be hit with that charge -- but audiences went nuts for episodes like "Angels in Chains," where Farrah Fawcett, Jaclyn Smith and Kate Jackson went undercover in a women's prison with skintight uniforms. (How much of Spelling's success did he owe to his wardrobe people always going a size or three too small?)
Next came "The Love Boat" and "Fantasy Island," two anthologies about people looking for romance and dreams in exotic locales. In the days before the networks focused exclusively on younger demographics, "Love Boat" rigidly stuck to a three story per episode format that would feature one young couple, one middle-age couple and one older couple to give every segment of the audience someone to identify with.
After a few more sexy detective shows -- Robert Urich in half-buttoned shirts on "Vega$," Robert Wagner and Stefanie Powers as champagne-swilling spouses on "Hart to Hart" -- Spelling introduced his signature series: "Dynasty."
BACKSTAGE
June 26, 2006
By Cynthia Littleton & Duane Byrge
Aaron Spelling Dies at 83

In his prime, Aaron Spelling defined the concept of the television superproducer. In his life, Spelling's rags-to-riches success story was the embodiment of the American dream.

The prolific writer-producer, whose roots in television stretched from 1950s Westerns to the upcoming season with "7th Heaven," died Friday at his Holmby Hills mansion near Beverly Hills of complications from a stroke he suffered June 18. He was 83.

Of his extraordinary run with more than 50 television series and 140 television movies, friends and colleagues often said that what was most striking about Spelling was his insatiable appetite for more. Long after he earned his entry in the Guinness Book of World Records for logging the most television producing credits, he never stopped getting excited when he sold a pilot to a network, found a good script from a young writer or discovered a future star in a cattle-call casting session. Into his final months, the impish, pipe-smoking producer still loved the game.

"He just loves television, and he loves what he does. He never looks down on the medium or the people who watch it," Leonard Goldberg, a longtime Spelling friend and former producing partner, said of Spelling in 2003. "Aaron will call me up and say, 'I just got a development deal at NBC,' and you'd think he needed it to pay his rent."

In the 1970s and '80s, Spelling's industry clout rivaled that of the three broadcast networks that bought his shows. He perfected an oeuvre of light action-fantasy dramas with sexy stars and glossy production techniques that made his shows stand out as Spelling productions, including "The Mod Squad," "S.W.A.T.," "The Rookies," "Charlie's Angels," "Vegas," "Starsky and Hutch," "The Love Boat," "Fantasy Island," "T.J. Hooker," "Hart to Hart," "Dynasty" and others. In the early '80s, he produced nearly a third of ABC's primetime schedule, earning it the sobriquet "Aaron's Broadcasting Company." His television movies ranged from such issue-oriented fare as 1976's "The Boy in the Plastic Bubble" and 1981's "The Best Little Girl in the World" to romps like 1982's "The Wild Women of Chastity Gulch." He ventured into film production on and off, scoring with 1983's "Mr. Mom," 1986's " 'Night, Mother" and 1991's "Soapdish."

"Aaron was a groundbreaking producer whose shows are more than entertainment. They have become part of the fabric of popular culture," said Lee Gabler, co-chairman of CAA, which represented Spelling for more than 25 years. "He was also a close friend and a wonderful mentor."

By the mid-'80s, the man born of modest means to Jewish immigrants in Dallas had become a fabulously successful Hollywood mogul with a fortune estimated at $300 million by Forbes magazine. His Aaron Spelling Prods. became a publicly traded entity in 1986, and during its rocky run as an independent the company attempted to diversify into a broad-based media concern. But television series produced by the company's founder was always the company's bread and butter. By the end of the '80s, when his string of ABC hits inevitably dried up, Spelling mounted a comeback with buzzworthy serials "Beverly Hills, 90210" and "Melrose Place" on the still-young Fox network.

Spelling often told the story of how devastated he was after the cancellation of "Dynasty" in 1989, when he found himself without a single show in primetime for the first time since 1960. He feared he'd lost his touch. Out of the blue he got a call from Barry Diller, an old friend from the early-'70s ABC days who was then chairman of the upstart Fox Broadcasting Co. Diller asked him to do a show about a group of high school kids. He was dubious until Diller reminded him that he had two teenagers of his own, Spelling said. In fact, the older of Spelling's two children, daughter Tori, co-starred on "90210" through its entire 1990-2000 run. His son, Randy, is also an actor, and has appeared in Spelling productions like the '90s NBC daytime serial "Sunset Beach."

In 1996, Spelling extended his reign to yet another new network, WB Network, with wholesome family drama "7th Heaven," followed two years later by the fantasy-themed "Charmed." "Heaven" would rank as the highest-rated show in WB's 11-year history and is poised in the fall to help launch WB's successor network, the CW.

Although Spelling took his lumps from writers who accused him of claiming too much credit for shows they created, there was no discounting his track record or the distinct Spelling stamp his shows carried. As a producer, he was known for his attention to detail, particularly wardrobe, and for his strength in spotting holes in scripts or character problems.

"He was incredibly hands-on, loved his work, and told me once he'd never retire," said "Heaven" star Stephen Collins. Added "Heaven" creator/executive producer Brenda Hampton: "He was a genius. I loved working for him."

Spelling deeply resented the broad brush that television critics and other pundits often used to describe his shows. He hated the derogatory labels "jiggle TV" and "schlock TV" that some applied. He earned Emmys as a producer for the 1989 CBS television movie "Day One," about the Manhattan Project, and for "And the Band Played On," HBO's sweeping 1993 miniseries about the AIDS crisis. He was proud of the earthy, Emmy-nominated '70s drama series "Family," co-produced with Mike Nichols; and he was proud of the occasional efforts undertaken by "90210" to educate its youthful audience about social issues ranging from the importance of safe sex to the dangers of drunk driving.

But while he craved the kudos and prestige of winning awards, Spelling never apologized for being a crowd pleaser with escapist potboilers infused with glamour and an ever-present affluence among its characters and settings. Spelling delighted in occasionally strolling outside and talking to the people on the celebrity sightseeing tour buses that drove past his famously opulent, 56,500-square-foot, 123-room French chateau in the Holmby Hills enclave that he built, amid much public scrutiny, on a six-acre estate formerly owned by Bing Crosby. He would tell the gawking tourists, "You are the reason we have this house."

Born April 22, 1923, in Dallas, Spelling was the fourth of five children in a family that lived "on the wrong side of the tracks," Spelling recalled in his 1996 autobiography, "A Prime Time Life." His father, David, worked as a tailor for Sears. As the lone Jew in his school, Spelling frequently was taunted and harassed by other students. He spent a year in bed at the age of eight after suffering a nervous breakdown from the constant pressure. The experience shaped his personality and spurred in him the creative storytelling impulse. He was eager to leave his hometown after graduating from high school and joining the Army Air Corps in 1942. He earned his Greatest Generation stripes with a three-year hitch during World War II that left him with a Bronze Star, a Purple Heart and a mangled finger on his left hand from a sniper's bullet.

After his discharge, Spelling returned to Dallas to study journalism on the G.I. Bill at Southern Methodist University, where he served as the school's head cheerleader. He earned some acclaim with one-act plays that he wrote and directed, a move that was in and of itself a controversial act amid the pervasive anti-Semitism of the era. Whether apocryphal or not, Spelling often recounted in interviews how his rising profile in Dallas eventually cost his father his job, and that his sister Becky convinced Sears to reinstate him in exchange for her brother agreeing to leave town.

Spelling bounced around New York for a while looking for work as an actor and playwright. He landed in Los Angeles in 1953, virtually flat broke. He became active in the local theater scene and landed bit character parts in movies and TV series including "I Love Lucy," "Dragnet" and "Gunsmoke." During this period he married actress Carolyn Jones, later of "The Addams Family" fame. He also sought to sell scripts to various Westerns and other shows of the day. He eventually was taken under wing by Dick Powell, the former matinee idol-turned-television producer. Spelling worked round the clock for Powell's Four Star Television production banner producing such shows as CBS' "Zane Grey Theater" and "The Lloyd Bridges Show," NBC's "The Dick Powell Show" and ABC's "Burke's Law" and "Honey West." The first of Spelling's long list of TV series created-by credits was the 1959-60 CBS Western "Johnny Ringo," starring Don Durant as a reformed gunfighter trying to settle a lawless town in Arizona.

By the late '60s, Spelling was established enough to form his own production partnership with Danny Thomas, the hugely successful comedian and producer. The Thomas-Spelling production partnership yielded the youthful police drama "The Mod Squad," "The Guns of Will Sonnet" and "The Danny Thomas Hour." Goldberg, a former head of programming at ABC, partnered with Spelling in the early '70s for the era of such hits as "Starsky and Hutch," "Charlie's Angels," "The Rookies" and "Hart to Hart," starring Robert Wagner and Stefanie Powers in a romantic light detective vehicle. During this period, Spelling worked under a lucrative, exclusive production pact with ABC. Spelling and Goldberg sold their television library to Columbia Pictures in the early '80s.

Spelling's longtime friendship with Lucille Ball led to one of the few half-hour comedies he ever attempted, the short-lived sitcom "Life With Lucy," which proved to be Ball's last series. The show was a high-profile flop for ABC in the fall of 1986. Spelling once said he knew the show would not make it during the first day of shooting for the pilot, when audience members gasped as Ball, then in her mid-70s, struggled to pull off the physical comedy that had been her trademark.

Spelling's business acumen was never as strong as his storytelling skills. He went solo with his Aaron Spelling Prods. banner in the late '70s. Spelling Communications, as it was renamed after its initial public offering in 1986, sought to expand beyond the volatile business of series production in 1988 with the acquisition of program distributor Worldvision Enterprises. In 1993, Spelling launched the 24-hour Latin American entertainment channel TeleUNO. The company made a big push into first-run syndication in the mid-'90s with short-lived dramas including "Robin's Hoods" and "University Hospital." Spelling Communications also launched a subsidiary production unit, Big Ticket Television, that fielded such hits as the syndicated court show "Judge Judy" and the UPN comedies "Moesha" and "The Parkers."

In 1993, home video retailer Blockbuster acquired nearly half the company and gradually increased its stake. When Blockbuster became part of a three-way merger deal between Sumner Redstone's Viacom and Paramount Communications in early 1994, Spelling moved with Blockbuster under the Viacom fold. Redstone put Viacom's stake in Spelling on the auction block more than once in the mid- to late-'90s. When no buyer emerged at the $750 million price tag Viacom sought, Redstone opted to buy up the remainder of Spelling in 1999. The friendship that blossomed between Redstone and Aaron Spelling during this period helped ensure a measure of autonomy for Spelling and his company within the Paramount Television banner in his final years.

"For a person of such fame, you would marvel at how unassuming, kind and gentle he was," said Redstone, now chairman of Viacom and CBS Corp., in the Los Angeles Times' Saturday edition.

Spelling was honored in 2000 by the Producers Guild of America with its Golden Laurel Award for Lifetime Achievement in Television. He also was recognized with six NAACP Image Awards during the course of his career. He was named Man of the Year by the Publicists Guild of America in 1971, among many other industry and philanthropic honors.

Spelling's marriage to Jones ended in 1965. In 1968, he married Candy, an interior designer. Their first child, Victoria (Tori), was born in 1973, followed five years later by Randy.

Funeral services will be private. Longtime Spelling publicist Kevin Sasaki said a memorial service is being planned for next month. In lieu of flowers, the family requests that donations be made to Vista Del Mar Child and Family Services, 3200 Motor Ave., Los Angeles, CA 90034.
The Star Online
July 2, 2006
Spelling out the course of popular TV
Though he occasionally earned himself monikers like the Sultan of Schlock and The Abominable Showman, television's most prolific producer, the late Aaron Spelling, left behind a legacy which generations of couch potatoes deem close to heaven. S. INDRAMALAR takes a walk down TV lane.
IT is really not hard to see why Aaron Spelling (April 22, 1923 – June 23, 2006) is regarded as America's most successful and inexhaustible television producer with close to 5,000 hours of programming to his credit since 1956 (it's even in the Guinness Book of World Records!). In his career spanning almost 50 years in showbiz, Spelling worked on more than 200 productions (TV series and movies – as writer, producer, and other job functions), many of which became cult classics among viewers the world over.
Whether you grew up in the 1970s, 80s, or 90s, chances are your TV diet would have included many Aaron Spelling classics.
Starsky & Hutch (1975, executive producer), Dynasty (yes, the soap opera throughout the 1980s which popularised shoulder pads and really bad hairstyles), Beverly Hills, 90210 (1990s teen soap opera that probably set the stage for current hits One Tree Hill and The OC) and many, many more kept viewers of all ages glued to their boob tubes.
In the 1970s, Spelling had so many shows on America's ABC network that those in the business joked that ABC stood for "Aaron's Broadcasting Company"! At one point he produced a third of ABC's 21 weekly hours of TV.
Born in Dallas, Texas, Spelling began his career in New York as an actor in 1945 (he played a gas station attendant in an episode of I Love Lucy) after graduating with a degree in journalism from Southern Methodist University in his home state.
After marrying his first wife, actress Carolyn Jones (Morticia Addams in The Addams Family) in 1953 (when she proposed to him), the couple moved to California where Spelling had his break as a writer, selling his first script to the Jane Wyman Theater.
Unfortunately, his marriage to Jones started to suffer just as his career began to pick up and in 1964, the two divorced, amicably. He got married again in 1968 – to interior designer Carol Jean Marer, commonly known as Candy Spelling, mother to actress Tori Spelling, 33, and Randy Spelling, 27.
From writing, Spelling branched out into producing shows at Four Star Television, where he worked with Dick Powell, churning out episodes of Zane Grey Theatre and The Dick Powell Show. Though he produced and wrote for movies (Guns of Timberland, 1960) and One Foot in Hell (also 1960), Spelling found his forte in television. One of his earliest successes as a producer was the TV series Daniel Boone (1964-70) and The Mod Squad (1968-73).
Even then, Spelling was recognised for having a "canny interest in programming for younger audiences" and a "genuine gift for responding to the television tastes of America", according to entertainment website Hollywood.com.
In the 1970s, Spelling signed an exclusive contract with ABC, and former ABC programming chief Leonard Goldberg joined him as a producing partner in 1972. It was in this year that Spelling created Aaron Spelling Productions (which later went public as Spelling Entertainment).
The duo produced an abundance of TV films (more than 100 including The Boy in the Plastic Bubble with John Travolta) and hit TV series such as S.W.A.T., Starsky & Hutch and The Rookies as well as the acclaimed drama Family.
Other hit TV shows were The Love Boat (bet most of us can still hum the theme song) and Fantasy Island (who can forget the vertically-challenged Tattoo and his famous "da plane, da plane" cry), Charlie's Angels (the show that launched the careers of Farrah Fawcett, Jaclyn Smith and Kate Jackson), Hart to Hart (Robert Wagner and Stefanie Powers were the most glamorous and good-looking crime-busters on TV at the time), Hotel (the Connie Sellecca-James Brolin combo was hot!) and more.
Spelling truly hit the gold mine with Dynasty (1981-89) – the drama surrounding the Carringtons, the wealthy oil family from Denver – which challenged the then popular soap Dallas and was for one season the No.1 show in America.
He won a Golden Globe for Best Television Series (Drama) for Dynasty in 1983.
In fact, Spelling's 123-room mansion in Los Angeles was dubbed "the house that Dynasty built" – it boasted a bowling alley, a swimming pool, gymnasium, tennis court, screening room and four two-car garages!
The end of Dynasty did not spell the end of his career, though. He bounced back with teen soap Beverly Hills, 90210 (1990-2000, which starred his daughter Tori), Melrose Place (1992-99) and 7th Heaven (1996-present), a show about the Camdens, a Christian family in California who faces the challenges of trying to live a moral life in a material world.
Even though his shows were said to be "mind candy" and were defined by their "gloss, glitz and glamour", Spelling regarded 7th Heaven as being one of the "most satisfying programmes" he had ever produced. He was also quoted as once saying that working on the wholesome family drama Family was the happiest time of his life.
His most recent TV successes were Charmed (which he created, 1998-present) and Summerland (2004).
Since 2000, Spelling had reduced his public appearances and interviews given and the control of Spelling Television company was largely steered by his business partner, E. Duke Vincent, and the company's president, Jonathan Levin.
He was diagnosed with oral cancer in 2001 and on June 18 this year suffered a severe stroke and was hospitalised briefly. He died, aged 83, on June 23 due to complications from the stroke.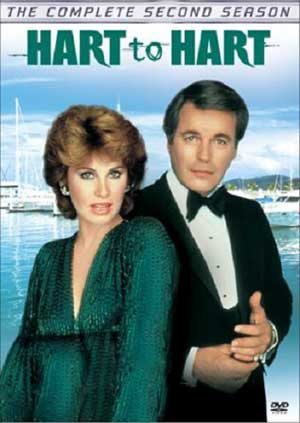 TV Shows on DVD
July 10, 2006
Hart to Hart – Jonathan & Jennifer Hart Return to DVD for their 2nd Season
Posted by David Lambert
Sony has announced the second season of the popular whodunit series HART TO HART starring Robert Wagner and stefanie Powers! The millionaire couple continues their hobby as amateur sleuths. They seem to always be finding themselves on the brink – or right in the middle – of danger. This season the couple and their loyal sidekick, Max (Lionel Stander) investigate 20 hour-long episodes on 5 DVD's, with guest stars such as Roger C. Carmel, Dolph Sweet, George Wendt, Joanna Cassidy, Amy Madigan, Shari Belafonte, Lois Chiles, Joe Pantoliano, Jared Martin, Bebi Besch, and Jerry Stiller. Running time is 987 minutes and cost is $49.95 SRP. There are no extras (other than "bonus previews"). When you meet this package on September 19th, it'll be murder!
Hart to Hart - Season 2 Announcement
posted by Jeff Hodges - 07/12/2006
The world's most glamorous amateur sleuths are back for more mystery, fun and danger in the second sensational season of HART TO HART, starring Robert Wagner and Stephanie Powers. In 20 captivating cases, ranging from kidnapping and robbery to industrial espionage and murder, romantic jetsetters Jonathan and Jennifer Hart risk life, limb and lifestyle to solve the most unsolvable of crimes. Featuring Lionel Stander as their faithful sidekick, Max, and a first class line-up of suspects and victims, HART TO HART: THE COMPLETE SECOND SEASON is a rich and sexy blend of adventure, intrigue and excitement.

Sony Pictures Home Entertainment has announced, that Hart to Hart - The Complete Second Season will be coming to DVD on September 19th, 2006. The 5-disc set will feature all 20 episodes from Season Two for a total runtime of 987 minutes.

Hart to Hart - The Complete Second Season will be presented in Full Screen (1.33:1) and will have audio tracks in English (Mono), with subtitles in Portuguese. Hart to Hart - The Complete Second Season will carry a SRP of $49.95, but you can pre-order it from Amazon for only $34.99.
DIVA TALK: A Backwards Glance—the 1986 Tony Awards PLUS McDonald and Evita Recordings
By Andrew Gans
21 Jul 2006

News, views and reviews about the multi-talented women of the musical theatre and the concert/cabaret stage.
THE 1986 TONY AWARDS
This week I've chosen to view (and write about) the 1986 Tony Awards, which celebrated the 40th anniversary of the theatre's highest honor. The two-hour broadcast was chock-full of musical moments and concentrated more on past shows than the musicals that were nominated that season, which included Big Deal, The Mystery of Edwin Drood, Song & Dance and Tango Argentino.
Following the swirling "CBS Special Presentation" logo, the TV screen provided a tight shot of Nell Carter, standing centerstage in a sparkly purple gown. The Tony winner opened her mouth and sang, "I love rock and roll. I love country, pop and soul — love the rhythms of today." Then, the camera switched to Tony Randall, who added, "But when I'm tired of that beat, and I long for something sweet, I go back to old Broadway." Jack Lemmon and Stefanie Powers continued singing "Wanna Sing a Showtune" as the announcer bellowed, "Live from the Minskoff Theatre in New York City, the 40th Anniversary Tony Awards."
All of the evening's guest stars — who joined in on "Wanna Sing a Showtune" — proceeded to walk down one of the two giant staircases that framed the stage. George Rose, one of the evening's nominees for his performance in Drood, then introduced a list of other actors who would be part of the special anniversary telecast.
A cocktail party was the setting for the 1986 Tony Awards broadcast, and Lee Remick and former Mayor John V. Lindsay each descended from opposite sides of the stage to start the salute to the (mostly) Tony-winning musicals that had graced Broadway from 1947 through 1986. David Wayne kicked off the musical salute by offering a selection from Finian's Rainbow, the 1947 that cast the late actor as leprechaun Og.
The year-by-year musical tribute continued with performances by Lee Roy Reams and Susan Anton ("Papa, Won't You Dance With Me" from 1948's High Button Shoes), Tom Wopat and Karen Morrow ("So in Love" from 1949's Kiss Me, Kate), Dorothy Loudon ("Wonderful Guy" from 1950's South Pacific), Rex Smith ("I've Never Been in Love Before" from 1951's Guys and Dolls), Cleo Laine ("Hello, Young Lovers" from 1952's The King and I), John Rubinstein ("It's Love" from 1953's Wonderful Town), Stefanie Powers and Hal Linden (a duet from 1954's Kismet), Ann Reinking, Juliet Prowse and Sandy Duncan ("Steam Heat" from 1955's Pajama Game) and Bea Arthur ("Heart" from Damn Yankees). All of the performers joined Arthur for the rousing Damn Yankees tune, which concluded the first of several musical tributes.
Hal Linden then presented the first award of the evening — Best Score of a Musical — to Broadway newcomer Rupert Holmes for his Edwin Drood songs. Holmes made special mention of his ten-year-old daughter Wendy as well as producer Joe Papp, "who makes Drood possible, [and] who made theatre in New York exciting." Holmes would quickly return to the stage to accept his second Tony Award — for Best Book of a Musical — from presenter Susan Anton. Holmes quipped, "God, I hope my home video tape recorder is working right now!"
The second year-by-year musical section continued with Stefanie Powers, who sang a snippet of "I Could've Danced All Night" from 1957's My Fair Lady. Duncan, Prowse and Reinking returned to offer a bit of "America" from 1958's West Side Story, and Leslie Uggams belted out "Love, Look Away" from 1959's Flower Drum Song. Since Fiorello! and The Sound of Music tied for Best Musical in 1960, songs from both shows were offered, and then Lee Remick stated, "That was an extraordinary year in any event because we also had Gypsy." At that moment Bernadette Peters, who was then starring in Song & Dance, took centerstage to offer an exciting portion of Gypsy's "Some People," perhaps the first time the future Momma Rose would sing that song before a live audience.
The Best Choreography Tony Award was presented to Bob Fosse for the all dancing Big Deal. Fosse's brief speech made special note of three of the show's stars, Cleavant Derricks, Alan Weeks "and the wonderful Loretta Devine." Tony Randall presented the Best Scenic Design award to Tony Walton for his work on The House of Blue Leaves, and Leslie Uggams announced that the winner of the Best Lighting Design Tony was I'm Not Rappaport's Pat Collins, who was working in London and therefore unable to attend the ceremony. Before Nell Carter presented the Best Costume Design Tony, the sassy actress joked, "Whoever wins must make me a dress — or don't come up here!" Patricia Zipprodt, who won that award for her work on the Sweet Charity revival, said, "I'm so glad I won. If I had lost one more time I think I would have been eligible for 'The Guinness Book of World Records.'"
Bea Arthur introduced the selection from the first of the year's Tony nominated musicals, The Mystery of Edwin Drood. Onstage George Rose began singing a portion of "There You Are," and then he was joined by several members of the cast — Cleo Laine, Betty Buckley, Howard McGillin and Patti Cohenour — who made their way to the stage via the audience. "There You Are" segued into a portion of "Don't Quit While You're Ahead," which featured brief solos from co-stars Laine, Buckley, Cohenour and McGillin.
More awards followed: Lily Tomlin presented Robert Brustein, Artistic Director of the American Repertory Theatre, with the Regional Theatre Tony Award, and Sandy Duncan awarded Jerry Zaks with the Best Director of a Play for his work on House of Blue Leaves. In his speech, Zaks joked, "Perhaps my mother will [now] give up the idea of medical school." Wilford Leach then received the Best Director of a Musical Tony for Drood.
The musical salute continued with 1961's Tony-winning musical Bye, Bye Birdie. Chita Rivera, who had been injured earlier in the season, was wheeled out on a prop cart and sang "Put on a Happy Face" while showing off the new cast on her leg, which drew a large applause from the audience. The segment also featured Tom Wopat singing Camelot's "If Ever I Would Leave You," also from 1961; Karen Morrow performing "I Believe in You" from 1962's How to Succeed in Business Without Really Trying; Tony Randall, Jose Ferrer and Jack Gilford insisting "Everybody Ought to Have a Maid" from 1963's A Funny Thing Happened On the Way to the Forum; and Randall, Ferrer and Gilford saying "Hello, Dolly!" from the 1964 musical of the same name. The Dolly! tribute also featured Susan Anton, who sang a bit of the lovely ballad "It Only Takes a Moment."
Alfonso Ribeiro, Lee Roy Reams, Ben Vereen and Hal Linden joined forces for "Tradition" from 1965's Fiddler on the Roof, and then several tunes from 1966 were presented: John Rubinstein's "Dulcinea" from Man of La Mancha, Stefanie Powers' "That's How Young I Feel" from Mame, and Dorothy Loudon's "On a Clear Day You Can See Forever" from the musical of the same name. Loudon then noted that 1966 also brought Sweet Charity, which was back on Broadway that season. The introduction preceded Debbie Allen, who performed a minute's worth of "I'm a Brass Band."
Lee Remick sang a portion of the title song from 1967's Cabaret; Leslie Uggams, who won a Tony Award for her performance in Hallelujah, Baby!, reprised a moment from that 1968 musical; and Nell Carter belted out the anthem from 1969's Hair, "Aquarius."
After a commercial break, Susan Anton introduced the second nominated musical of the evening, Andrew Lloyd Webber's Song & Dance. Video clips were shown of the Dance portion, and then the camera focused on Bernadette Peters, sitting alone onstage dressed in jeans and a Nebraska sweatshirt. Peters delivered a beautiful version of "Unexpected Song" that built to a belty ending and the song's ethereal final note. Enthusiastic applause followed.
The Featured Actress and Actor in a Musical Awards were then presented. Bebe Neuwirth, who was co-starring in the Sweet Charity revival, was presented her award by Ben Vereen. In her speech Neuwirth admitted, "It's hard not to do work that you're very proud of when you're around Bob Fosse and Gwen Verdon . . . . It's the most fun I've had maybe all my life." Her Charity co-star, Michael Rupert, picked up the Featured Actor in a Musical Tony, which was presented to him by Ann Reinking. A thrilled Rupert exclaimed, "Are you sure?! . . . This is great!!"
William Hurt and Isabelle Stevenson spoke about the American Theatre Wing on a pretaped segment, and then Tom Wopat introduced the third nominated musical Big Deal. The cast offered the show's spirited first-act finale, "Beat Me Daddy Eight to the Bar."
Sweet Charity may have nabbed the Best Featured Actor/Actress in a Musical awards, but it was The House of Blue Leaves that took both Featured Actor/Actress in a Play prizes. Sam Waterston presented Swoosie Kurtz with the Tony Award for Best Actress in a Play for her performance as Bananas in Blue Leaves, and Stefanie Powers presented John Mahoney with his Tony. In her speech Kurtz remarked about the miracles in her life, including Blue Leaves playwright John Guare, director Jerry Zaks, her castmates and Bernie Gersten and Greg Mosher "for being so unproducerlike." The actress also thanked the theatre "for teaching me all about madness and Bananas, who will live in my heart forever."
A nearly 15-minute segment devoted to 40 years of Tony Award-winning plays followed, perhaps the greatest tribute the Tony broadcast has ever dedicated to non musicals. The set-up was simple: A Playbill cover featuring the year's Tony-winning Best Play was shown on screen, followed by an actor dressed in black reciting a few lines from that show. Jose Ferrer began the Best Play tribute with a section from 1947's Cyrano de Bergerac. The complete list of plays and actors follows:
1948: Mister Roberts, David Wayne
1949: Death of a Salesman, Bea Arthur
1950: The Cocktail Party, Stefanie Powers
1951: Rose Tattoo, Maureen Stapleton
1952: The Fourposter, Jessica Tandy
1953: The Crucible, Lee Remick
1954: The Teahouse of the August Moon, David Wayne
1955: The Desperate Hours, Hal Linden
1956: The Diary of Anne Frank, Sandy Duncan
1957: Long Day's Journey Into Night, Jack Lemmon
1958: Sunrise at Campobello, Tony Randall
1959: JB, Hume Cronyn
1960: The Miracle Worker, Colleen Dewhurst
1961: Becket, Richard Kiley and Tony Randall
1962: A Man for All Seasons, Hume Cronyn
1963: Who's Afraid of Virginia Woolf?, Marlo Thomas
1964: Luther, Sam Waterston
1965: The Subject Was Roses, Leslie Uggams
1966: Marat/Sade, Rene Auberjonois
1967: The Homecoming, Stacy Keach
1968: Rosencrantz and Guildenstern Are Dead, John Rubinstein
1969: The Great White Hope, Ben Vereen
1970: Borstal Boy, Jack Lemmon
1971: Sleuth, Gene Barry
1972: Sticks and Bones, Rex Smith
1973: That Championship Season, Charles Durning
1974: The River Niger, Cleavon Little
1975: Equus, Anthony Perkins
1976: Travesties, Frank Langella
1977: The Shadow Box, Lee Roy Reams
1978: Da, Jack Gilford
1979: The Elephant Man, Philip Anglim
1980: Children of a Lesser God, John Rubinstein and Phyllis Frelich 1981: Amadeus, David Birney
1982: Nicholas Nickleby, Susan Anton, Sandy Duncan, Dorothy Loudon and Tom Wopat
1983: Torch Song Trilogy, Ron Silver
1984: The Real Thing, Ann Reinking
1985: Biloxi Blues, Matthew Broderick
A standing ovation followed the Best Play tribute, and then Bea Arthur presented the 1986 Tony Award for Best Play to playwright Herb Gardner for I'm Not Rappaport. Gardner, to the delight of the audience, said, "This is ample evidence that there is life after [New York Times critic] Frank Rich." Dorothy Loudon presented the Best Revival of a Play or Musical to producer Jerome Minskoff for Sweet Charity. Minskoff said he was especially proud to receive the award on the stage of the Minskoff Theatre and made special mention of Joe Harris, Gwen Verdon and "the genius of Bob Fosse."
Another musical tribute followed: the evening's performers sang the title number from 1970's Applause; Ann Reinking, Juliet Prowse and Sandy Duncan offered "You Could Drive a Person Crazy" from 1971's Company; and the segment concluded with selections from 1972's Two Gentlemen of Verona and Follies. The latter featured Nell Carter, Dorothy Loudon, Leslie Uggams and Karen Morrow all lamenting the life of a "Broadway Baby."
The Best Actor and Best Actress in a Play Tony Awards were presented to, respectively, Judd Hirsch (for I'm Not Rappaport) and Lily Tomlin (for The Search for Signs of Intelligent Life in the Universe). Hirsch brought co-star Cleavon Little onto the stage during his somewhat overlong speech, and Tomlin managed to thank just about everyone who worked on her show — from the head usher to playwright Jane Wagner.
The final musical segment featured Tony-winning musicals from 1973-1985, including songs from A Little Night Music, Pippin and Gigi as well as Alfonso Ribeiro's "Ease on Down the Road" from 1975's "The Wiz," Rex Smith's "Who Am I Anyway?" from 1976's A Chorus Line, Dorothy Loudon's "Easy Street" from 1977's Annie, Nell Carter's "Ain't Misbehavin'" from the 1978 musical of the same name, Bea Arthur's "Not While I'm Around" from 1979's Sweeney Todd, Karen Morrow's "Don't Cry for Me Argentina" from 1980's Evita, Lee Roy Reams' "We're in the Money" from 1981's 42nd Street, Duncan, Prowse and Reinking's "Folies Bergeres" from 1982's Nine, Nell Carter's "Memory" from 1983's Cats, and the entire company singing La Cage aux Folles's "The Best of Times" (1984) and Big River's "Muddy Water" (1985), which flowed back into the evening's opener "Wanna Sing a Showtune."
Karen Morrow introduced a brief video clip of Tango Argentino, the final nominated musical, and Lee Remick presented the Best Actor in a Musical prize to The Mystery of Edwin Drood's George Rose, who said, "Sometimes a show comes along that makes you really glad you became an actor."
John Rubinstein then took the stage to announce the winner of the Tony Award for Best Actress in a Musical. This year marked Bernadette Peters' first win in that category for her remarkable performance in Song & Dance, which cast her as Emma, a British hat designer newly arrived in New York. A visibly thrilled Peters made this acceptance speech: "Thank you. Thank you very much. I'm overwhelmed. I appreciate this so much. I want to thank my mother for insisting I had talent and continuing with my lessons. I want to thank my father and my sister and my brother for their loving support. And I have to thank a person for whom I wouldn't be standing here today getting this, my manager and dear friend Tom Hammond. And I have more! I want to thank my acting teacher David LeGrand and my singing teacher Adrienne Angel because I couldn't have sung eight shows a week and I can't sing eight shows a week without her. The dancers — the dancers in the show are so talented and so committed and so uplifting. They uplift the show and they uplift me every night. I want to thank my standby, Maureen Moore. And Richard Maltby — this show wouldn't have happened on this side of the Atlantic without Richard Maltby, our director, and Don Black, who I adore, rewrote the lyrics with Richard, and Andrew Lloyd Webber for his gorgeous music. And Bernie Jacobs and Gerry Schoenfeld — my second great experience with them. And Cameron Mackintosh and The Really Useful Company and the FWM Producing Group. And, that's it. I'm out of cards. [Laughs.] I want to thank the audience because they're so warm, and thank you for coming, the audience, to the show. And thank you for this very, very much.
The final award of the evening, Best Musical of the Year, was awarded to The Mystery of Edwin Drood. Joseph Papp, producer of the musical, accepted the prize and remarked, "I'm very proud tonight. I'm proud for all of us here: my colleagues in the theatre — those who have won prizes and those that did not. It's a great thing to be in the American theatre. I'm particularly pleased that the Broadway community has seen fit to choose a newcomer in our midst — an extraordinary, talented composer and writer, who I think will be on the boards once again next season. I'm talking about Rupert Holmes. Thank you all for a good night."
Credits rolled as the entire company sang "Give My Regards to Broadway."
Jul 28, 2006
Monsters & Critics
Hart to Hart: The Complete Second Season comes to DVD in September
By Patrick Luce
America's most glamorous and adventurous pair of amateur sleuths are back in fine form when Robert Wagner and Stefanie Powers return on DVD September 19th for Hart to Hart: The Complete Second Season from Sony Pictures. The five-disc boxed set features all 20 episodes from the series, which in its sophomore season was nominated for three Emmy Awards in 1981, including Powers as Best Actress. The set will be available for the suggested retail price of $49.95.
Created by best-selling author Sidney Sheldon, Hart to Hart chronicles the globe-trotting adventures of husband and wife detective team Jonathan and Jennifer Hart. As a self-made millionaire and head of Hart Industries, Jonathan (Wagner) has it all. He and his beautiful wife Jennifer (Powers), a former freelance journalist, are able to live a life of luxury; however, their curiosity and love for hard work keep the Harts active and busy as amateur sleuths who always end up on the brink – or right in the middle – of danger. Lionel Stander also stars as the Hart's loyal butler and trusty sidekick, Max.
Executive produced by TV powerhouses Aaron Spelling (TV's "Charlie's Angels," "Melrose Place") and Leonard Goldberg (TV's "Family," "Starsky and Hutch"), Hart to Hart premiered on ABC August 25, 1979, and became an instant hit with audiences who adored the Nick and Nora Charles aspect of the series and the engaging chemistry of its charismatic leads. During its successful six-season run, Hart to Hart was nominated for six Emmys and 14 Golden Globes, winning one for Best Supporting Actor (Lionel Stander).
Familiar faces appearing in the second season include Jerry Stiller (TV's "King of Queens," "Seinfeld"), Amy Madigan (TV's "Carnivale"), George Wendt (TV's "Cheers"), John Gavin (Imitation of Life, Thoroughly Modern Millie), Jane Withers (Giant), John Ireland (Red River, All the King's Men), Millie Perkins (Diary of Anne Frank), Dana Wynter (Invasion of the Body Snatchers), Ron Moody (Oliver!), Cynthia Sikes (TV's "St. Elsewhere"), Joanna Cassidy (TV's "Boston Legal"), Don Stroud (TV's "Mike Hammer"), Lois Chiles (The Way We Were), Shari Belafonte (Murder by Numbers) and Elaine Joyce (TV's "Matchgame").
DVD Special Features Include:
Digitally Mastered Audio and Video
Full Screen Presentations
Audio: English, Portuguese
Subtitles: Portuguese
Bonus Previews
Closed Captioned
Hart to Hart: The Complete Second Season episodes include:

Murder, Murder on the Wall
What Murder?
This Lady Is Murder
Murder Is a Man's Best Friend
Tis the Season to Be Murdered
Murder Wrap
Murder in Paradise
Ex-Wives Can Be Murder
Murder Is a Drag
The Hart Shaped Murders
Slow Boat to Murder
Murder in the Saddle
Homemade Murder
A Solid Gold Murder
Getting Aweigh With Murder
The Murder of Jonathan Hart
The Latest in High Fashion Murder
Operation Murder
Murder Takes a Bow
The Blue Chip Murders
Hart to Hart: The Complete Second is now available for pre-order at Amazon. As of yet, there is not a release date for the UK. Visit the DVD database for more information.
Queens Gazette
August 9, 2006
. . . Playing at the movies were "Ben Hur", starring Charlton Heston; "That Touch of Mink", starring Cary Grant and Doris Day; "Cat on a Hot Tin Roof", starring Elizabeth Taylor and Paul Newman, and "The Interns", starring Cliff Robertson and Stefanie Powers.
That's the way it was in August 1962.
MovieWeb
August 7, 2006
>HOLLYWOOD BEAT: Gringo Wedding & Tennis Anyone?
by Marci Weiner
A star was born in the fantastic form of Ana Lucia Dominguez, who plays the lead in Gringo Wedding. Already well known in Latin America (she starred in the very popular Mexican telenovela Amores Cruzados), Ms.Dominguex portrays a Columbian beauty looking for Mr.Right via a dating agency, "Agencia Del Amor." The problem is she does find him, in the formidable form of Justin Kane, but they don't speak the same language. But not to worry folks, Sebastian Boscan, as their flamboyant translator, tries to bridge their differences in religion, culture as well as their language problems, and the result is hilarious and touching.
Tas Salini, who functions as writer, producer and director of Gringo Wedding, managed to bring in the film for less than $5 million dollars, and crated a romantic comedy that spans all nationalities. Sixty percent of the dialogue in the film is in Spanish, while the other forty percent is English (don't worry there are subtitles), and the result is Spanglish (a language everyone can understand). After all, love is certainly the universal language for us all.
We attended the premiere with super agent and manager Mark Levin, who has represented numerous glamorous actress such as Gena Rowlands, Sally Field, and Stefanie Powers, as well as the greatest beauty of them all, Hedy Lamarr. Mark is currently developing a film project based on her extraordinary life. After seeing Ana as the bride in Gringo Wedding, he signed her to an exclusive management contract and says "She has the beauty, talent and charisma that make a star" And we agree!
Courier-Journal
August 20, 2006
A theatrical life
Family ties steered Leslie K. Broecker into marketing Broadway shows; know-how and passion help her thrive
By Judith Egerton
Leslie K. Broecker says she "drew the lucky stick" when she was born to Louisville arts leader Brad Broecker and Carla Sue Broecker, social columnist for the St. Matthews Voice-Tribune.
As a child, she visited the White House and sat on the lap of singer Pearl Bailey. As a young woman just out of Spring Hill College in Mobile, Ala., she spent a summer in New York and Nice, France, working for the JVC Jazz Festival. Her duties included taking hot tea with honey to Mel Torme before his Carnegie Hall concerts and pampering jazz greats Miles Davis and Sarah Vaughan.
In various jobs with the Broadway Series for the past 20 years, Broecker has met and befriended a multitude of stars. She picnicked in Cave Hill Cemetery with Joel Grey, watched horse races with Stefanie Powers and shared a Christmas holiday with Julie Harris. When she won an award for Outstanding Achievement in Road Marketing from the League of American Theatres and Producers, it was handed to her by her favorite Broadway legend: "Hello, Dolly!" star Carol Channing.
But Broecker's fortunate birth to a couple with deep roots in Louisville's arts community is not the primary reason for her successful career in the entertainment business (although it hasn't hurt). Her admirers here and elsewhere say it's Broecker's passion, integrity, hard work and knowledge of the Broadway industry that earned her the new title president of Broadway Across America, Midwest Region...
Jason Alexander, Carol Channing, Tyne Daly, Nanette Fabray, Peter Gallagher, and Robert Morse are just a few of the stars who will appear in
Everything's Coming Up Roses: The Jule Styne Centennial
, a special benefit concert for The Actors' Fund to be held at 8pm on Saturday, November 11 at the Luckman Fine Arts Complex in Los Angeles.
The event will be directed by David Galligan, with musical direction by John McDaniel. Other stars scheduled to appear include Obba Babatunde, Patrick Cassidy, Carole Cook, Nancy Dussault, Ilene Graff, Randy Graff, Sam Harris, Steve Kirwan, Dale Kristien, Vicki Lewis, Rod McKuen, Karen Morrow, Michael Nouri, Stefanie Powers, Cathy Rigby, Alice Ripley, Andrew Samansky, Sally Struthers, Bruce Vilanch, Lillias White, Jane Withers, and Jo Anne Worley.
Styne was the award-winning composer of such musicals as Gentlemen Prefer Blondes, Peter Pan, Bells Are Ringing, Gypsy, and Funny Girl. He also received the Academy Award for Three Coins in the Fountain.
Tickets are $40-$250 and are available by calling 323-933-9266 x35.
Evening Standard
September 18, 2006
Rabbit causes a buzz in film world
By Tom Teodorczuk
Take one Rampant Rabbit, the world's most popular sex toy. Add a first-time director and writer and sprinkle in cameos from London's great and good. Mix well.
That's the remarkable recipe for the new "mockumentary" Rabbit Fever, which is set to become the unlikeliest British film smash of the year when it is released on Friday.
Among the stars appearing in the film are Emily Mortimer, Sienna Guillory, Tom Conti, Germaine Greer, Lisa B, Stefanie Powers, William Boyd and Richard Branson.
In the picture, which was filmed across the capital, the stars deliver their verdict on the Rampant Rabbit either as themselves or as fictional characters.
Stephen Raphael, writer and producer of Rabbit Fever, got the idea for the film when he overheard some female gossip at the dinner table.
He said: "It all started in early 2004 when I went to a dinner party and there were a group of women there who had a bit to drink and started to talk about the Rampant Rabbit.
"I was amused and surprised by this. But then a friend told me he knew about this girl in his office who was always coming in late because of it and I thought, 'I have to write a film about women's addiction to the Rampant Rabbit'."
After recruiting first-time director Ian Denyer, Raphael then raised funds for the film by persuading 25 friends, ranging from writers to financiers, to stump up the cash.
He added: "Just so that there was never any doubt in anyone's mind, we brought a Rabbit vibrator along to the investors' meeting and plonked it in the middle of the table. The Rabbit disappeared and I never got it back."
Perhaps Raphael's most inspired move was hiring the well-connected Dixie Chassay as casting director. Chassay is the former girfriend of James Blunt, the subject of his number one smash You're Beautiful, and the daughter of Groucho Club founder Tchaik Chassay.
Raphael says: "Dixie was amazing. Ninety-nine per cent of the stars in the film we got through her."
These included her actor boyfriend Tom Hollander, who plays a marketing executive cashing in on the sex toy's popularity, and Evening Standard writer Toby Young as a Labour MP who faces calls for the Rabbit to be banned.
Oscar-winning screenwriter Frederic Raphael - Stephen's father - also appears as a sleazy Hollywood producer.
Raphael Jnr said: "It's truly an independent film. Our production office was my parents' flat in Chelsea. Not receiving any money from the Government or the Lottery meant I had total control of the film. If you can do it this way, you don't want anyone else on board."
www.rabbitfeverthemovie.com
Hart to Hart: Complete Second Season
September 19, 2006
This is my boss, Jonathan Hart, a self made millionaire. He's quite a guy. This is Mrs. H. She's gorgeous. She's one lady who knows how to take care of herself. By the way, my name is Max. I take care of both of them, which ain't easy. 'Cause when they met, it was murder.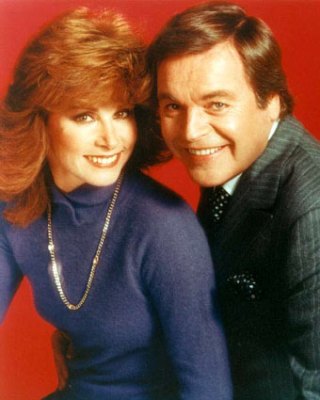 Hart to Hart: Season Two is a silly, classy, splashy bit of fluff about a wealthy, married, crime-solving couple that audiences in the early 80's ate up, and it's not surprising to see why. From the beginning title sequence, which plays like a cool TV version of a Bondian opener, to the final fade-out (which usually has the Harts in bed, ready for....you know what I mean), each little episode has a certain panache to the proceedings that speak to the talent involved behind the series.
Created by trash novelist Sidney Sheldon, Hart to Hart: Season Two had all the ingredients of one his delirious, glamorous potboilers: murder, sex, money, mystery, humor, and romance. To ensure the necessary camp values, along with the latest technology in TV glitz, executive producers Leonard Goldberg and Aaron Spelling (Charlie's Angels) were aboard to lend their populist-pleasing talents. Creative Consultant Tom Mankiewicz, responsible for several Bond scripts in the 70's, and son of famed filmmaker Joseph L. Mankiewicz, also tried his hand at scripting and directing several episodes in this particular season. Promoted this season (from supervising story editor during the first season) to series Producer, Mart Crowley (The Boys in the Band playwright) keeps things light and sophisticated, with an emphasis on giving the audience an entertaining, vicarious peek at this modern Thin Man couple. And what a couple they are for TV (particularly seen against today's TV couples).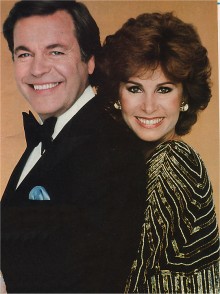 You really don't see Robert Wagner or Stefanie Powers types on TV today. Perhaps the definition of what is "fun" and "sophisticated" has changed radically since the Harts debuted (I've recently seen both of those labels applied to Desperate Housewives -- hmmm......no.). But they bring a real movie-star wattage chemistry to their scenes, and most importantly, you can tell they're having fun together. And why shouldn't they? They were both rich, confident, charming actors who weren't asked to be much more than that right here. This is total fantasy, with a multimillionaire head of a giant corporation, who never has to show up at the office, and a world famous journalist, who never writes a word. Both jet (in their own jet) around the country, getting into trouble -- and into bed -- without so much as an arched eyebrow cocked in our direction from dapper Robert Wagner. Stefanie Powers, who has numerous costume changes per episode, is the perfect kind of star for television; she's beautiful and well spoken, and yet low-key enough for us to welcome her into our homes, and feel comfortable about it.
And that, essentially, was the role of entertainment TV back during the Harts' run: comfort. Hart to Hart had a shaky start when it premiered in 1979, but when it moved from Saturday nights (the graveyard of network programming) to its permanent Tuesday night home on ABC, it fit in nicely with that network's night of fluffy, no-brainer entertainment (ending the season at 23rd, which, in those still halcyon days of network dominance, was still considered a sizable hit). The evening started off at 8 o'clock with family fun for both the kids and parents with Happy Days and Laverne and Shirley. Then, when the little tykes were scooted off to bed, Mom and Dad (and maybe an older teen who snuck in occasionally) would enjoy the slightly naughty humor/slapstick of Three's Company and Ted Knight's Too Close for Comfort in the 9 o'clock hour (Come on -- you know your old man was checking out Suzanne Somers). And then, with everybody asleep and Mom and Dad getting ready for bed, they could ease into dreamland with a little classy Hart to Hart action at 10 (to counter the beer drinking rambunctiousness of that Milwaukee crowd at 8). Is it any wonder that the episodes usually begin and end with the Harts safely tucked into their own bed at home? That's probably where most of their audience was watching the show.
Sure, there were critics then who said the show was vapid and shallow, with inane mystery plots lifted from virtually every other mystery story known to man (the mysteries fall way short of Columbo, but are miles above a typical T. J. Hooker). But honestly, who cares? Some shows are designed to entertain -- period. Which Hart to Hart admirably does. Yes, it's campy and coincidental, but it's also done by professionals who know their job, and as any pro in the business will tell you -- chemistry and charm are the most elusive ingredients to get over to an audience. Heavy drama is, by comparison, easy.
Here are the episodes featured in Hart to Hart: Season Two.
DISC ONE:
Murder, Murder on the Wall
A bank robber's death unleashes a search for the five-million dollars he stole from his accomplices.
John Ryan (It's Alive!)! Sid Haig (tons of horror and exploitation films)! Don Gordon (the other cop in Bullitt that no one remembers because Steve McQueen was a huge star)! Bergdorf Goodman gift boxes. Tiffany & Co. gift boxes. A huge not-so mobile phone, tethered to the inside of the car. The most expensive wallpaper known to man. John Gavin (Psycho)! Tavern on the Green lunch of death. Dune buggy of death. Motorcycle of death.
What Murder?
After losing his memory in an accident, Jonathan recalls witnessing a murder.
Some Rear Window action. Moped of death. TV's most common aliment: amnesia. No big stars. Very little Max. Pool fight of death.
This Lady is Murder
A case of mistaken identity results in Jennifer being kidnapped and held for ransom.
Powers plays two roles! Star Wars joke. Jimmy Carter and peanuts joke. Runaway bicycle of death. Junk yard shoot out. Forklift of death. Wacky split-screen shot. Luke Askew (Easy Rider), Andy Robinson (Dirty Harry), and Richard Romanus (TV's Night Terror where he was that creepy guy who couldn't talk, who terrorized Valerie Harper on the highway): a maniac smorgasbord!
Murder is Man's Best Friend
Freeway's role in a commercial uncovers a plan to sell pets and their owners on a highly-addictive dog food.
Mad dog of death. Tofu is introduced to unsuspecting Americans. Francis Ford Coppola/Marlon Brando joke. Robert Denison as a funny commercial director. Wagner wears a scarf knotted like Freddy on Scooby Doo. He will continue to do so throughout the season. Dog food pate of death. Kenneth Mars and Martine Beswick=high camp. Best line: Does Fellini put up with this kind of abuse?
DISC TWO:
'Tis the Season to Be Murdered
The Harts go undercover at their toy company to expose a costly security leak.
Christmas with the Harts! Gucci, Cartier, Neiman Marcus and more places you and I will never have enough money to shop in. Drive-in of death. Mr. Carlson from The Bob Newhart Show! Toy snake of death. Toy plane attack of death. Shredding machine of death. Elaine Joyce. Wagner and Powers as Vern and Edna Swandumper. Obscure (to your parents when they were watching back in 1980) reference to New Wave music. Powers as hot elf with cleavage. Max quote: It's my karma; I vibrate in symphony with the universe. Good line: What do I get if I win? A false sense of pride.
Murder Wrap
Jennifer's resemblance to an ancient Egyptian princes threatens to have her entombed forever.
Egyptian mummy of death. Entombment of death. Max as Frankenstein. Sexy Fiona Lewis (Stunts). Best line: Like every good mummy, he's gonna live to take the rap.
Murder in Paradise
At a Hawaiian croquet tournament, Jonathan and Jennifer stumble into a nest of spies competing for a list of Russian agents.
Croquet game of death. Max hulas. Some minor Blow Up action. Dolph Sweet. Wisecrackin' parrot. Warehouse fire of death. Kung fu fight of death. Croquet mallet whomping to the head. Noel Harrison (Windmills of Your Mind). Terrible line: Since when does the CIA go around accosting women? I don't know whether to report you to your superior or your mother.
Ex-Wives Can Be Murder
Max's ex-wife makes and unexpected appearance that draws him and the Harts into a battle for a stolen necklace.
Dana Wynter reduced to a Hart to Hart episode. Should be best Max episode ever -- but it's not. Insurance investigator assault of death. Chick fight of death. Allyn Ann Mclerie as Pearl. Icky line: We were like fire and wind, Maxie. We burned fast and hot, and then one day, there wasn't anything left to burn. Thank god.
DISC THREE:
Murder is a Drag
Jonathan is mistaken for a hit man and is hired to carry out a contract killing of the District Attorney.
Jennifer counting in German. Jonathan on Gotterdamerung: It's hard to believe this turkey was ever a hit. Exploding car of death. George Wendt (Hi, Norm!) Wagner and Powers as Rhett and Scarlett. Funky disco costume party of death. Gay Batman and Robin joke. Max in drag, looking like the female Tasmanian Devil. Charlie Callas! Best line: Where'd you come from? I came out of the closet.
The Hart-Shaped Murders
The Harts discover that a Valentine's Day gift to some friends is being used to transport secrets by an international spy ring.
Valentine's Day, ladies! Valentine nougat of death. Jogging. Cult actor Dick Davlos, overacting and overeating, with a Mommy complex. Teeny tiny Nedra Volz as Mommy. Multimillionaire Jonathan Hart, not allowed to eat what he wants -- wife says, "No." Playground brouhaha. Best line: That's Mrs. Bittersweet's son. He's the chocolate maker. He looks like the chief taster to me.
Slow Boat to Murder
In order to protect an illegal card game, a Hart Industries employee is framed for murder.
Disco club of death. Yacht party of death. Thin Man clip. Sensational, gorgeous Joanna Cassidy, with low cut shirt, given absolutely nothing to do. Amy Madigan looking kind of glam, too. A Mount St. Helens joke. Powers dressed like Olivia Newton-John in Grease. Wagner dressed like the gayest rough trade this side of West Hollywood. A wayward urban cowboy. Speed boat of death. Jet ski of death (the old kind from the 80's, with no seat). Upsetting line, when Wagner suggests a new kind of mixed drink to Powers: An Earthquake? Oh, that sounds stimulating. How do you make one of those? A dash of undulation, shake well, and uh.... The earth moves? Um.....I'll stick to Scotch, kids.
Murder in the Saddle
At their ranch, the Harts stumble upon a plan to make local ranchers believe their land is being contaminated by a chemical company's toxic waste.
The season's first poor person! Jane Withers! Max sings Willie Nelson. John Ireland! River of death. Rock slide of death. Love Canal joke. Three Mile Island joke. Stock footage from the old War of the Worlds. OPEC slam. Ghost town of death. Behorned Cadillac of death. Cute doggie and horsy trick (Jesus.). Paul Koslo as dummy psycho. Gene Evans (no face moisturizer in years).
DISC FOUR:
Homemade Murder
Posing as Jonathan, a murderer takes refuge in the Hart mansion as he searches for incriminating evidence that could send him to prison for life.
Millie Perkins getting knifed in the back! Knife throwing albino Don Stroud in a blonde Doris Day wig. Wagner as a samurai. Vito Scotti making pizzas. Canadian Mountie without the cool uniform. Squeaky dog toy of death. Max as gay interior decorator. Pompeii Pizza: You'll Leave our Pies in Ruins! Powers in geisha garb. A Bo Derek 10 reference.
A Solid Gold Murder
The theft of a seemingly innocuous barbell leads Jonathan to a legendary gold thief.
Extremely obscure Hathaway Shirt Man joke that only your parents would have gotten in 1980. Cesare Danova (the Mayor in Animal House)! Barbell freaks. Disturbing MTV moment, complete with Macho Man music track behind greasy shots of Frank Zane. Goldfinger theme referenced. Sauna of death. Barbell of death.
Getting Away with Murder
The Harts and Max go undercover on a gambling cruise to expose a counterfeiting ring.
Hey, The Love Boat set! Unfortunately, no Love Boat cast members. Cruise ship of death. Ron Moody (Fagin in Oliver!)! Peter Haskell (lots of TV shows)! Power's bad Russian accent. A genuine hot foot (ask your grandfather). Max's phoney heart attack. Raymond St. Jacques!
The Murder of Jonathan Hart
Jonathan fakes his own murder in order to find out who has been trying to kill him.
Golf cart of death. Sculpture of death. Jonathan's assassination. Obscure Frank Westmore reference. Ice bucket of death. Fiery car over the cliff death plunge. Disturbing line: I always wondered what it would be like to be in bed with Groucho Marx.
DISC FIVE:
The Latest Fashion in Murder
After agreeing to model for a high fashion magazine, Jennifer becomes a deranged killer's next target.
Lois Chiles in a dual role! STYX on the soundtrack. Photo shoot of death. Max hitting on Shari Belafonte-Harper. Caged disco dancers of death. Fuzzy cocaine joke. The Hollywood Palladium. Kinky shower peeping. Kinky robe sniffing. Max as Fred Astaire. Joe Pantoliano! A totally bizarre Sandor Naszody.
Operation Murder
Jennifer cannot convince anyone that she witnessed a murder during a brief hospital stay.
Kite flight of death. Park garbage can of death. Hospital of death. Dusty, the cowboy from Dallas, in drag. Powder room of death. Hospital parking lot of death. Weird hospital sex between consenting married couple.
Murder Takes a Bow
Jennifer is the only obstacle to a community theater director's plans to make the work of a murdered playwright his own.
Anthony Newley (Doctor Dolittle)! Jerry Stiller! Bel Air Community Players of death. Alleyway of death. The Harts charleston. Fake ape suit of death. Banana of death. Houseplant homicide. Bibi Besch. Gino Conforti! Worst line you don't want associated with you if your agent happens to land you in a Hart to Hart episode: I didn't know you could be shot for a bad performance.
The Blue Chip Murders
Millions of dollars in bonds hidden by their home's previous owner make the Harts the target of a greedy stockbroker.
Home invasion of death. Most unrealistic dialogue supposedly coming from multi-multimillionaires who never do a thing for themselves: Darling, did we pay the phone company? A secret passage way! Secret passageway of death. Wagner and Powers eating a couple of dirty water hotdogs. Hidden vault of death. Wishing well of death. Grease inspired drag race in the storm drains of L. A.. Worse line: Me Tarzan. But you; you're bananas.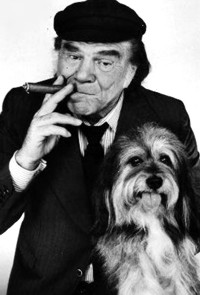 The DVD:
The Video:
Hart to Hart: Season Two looks fantastic. The blasted-out lighting of 80's TV is crisply represented on this full-frame DVD presentation.
The Audio:
The Dolby Digital Mono presentation is straightforward and clear, with no distortion. Every quip is heard clearly.
The Extras:
Unfortunately, there are no extras. There is, oddly, an offering of an alternate audio track in Portuguese, with subtitles available only in Portuguese. Were the Harts huge in Portugal?
Final Thoughts
Hart to Hart: Season Two has all the pleasures of audience-pleasing 80's network TV. From the driving, kaleidoscopic theme music, to the movie quality introduction of the stars (I love that shot of Mrs. H behind the wheel of her car, complete with sexy smile -- what a naughty kitty!), to the jet-setting feel of the campy mysteries, Hart to Hart: Season Two delivers the goods for guilt-free, sophisticated TV fantasy. Highly recommended.
The Independent
September 20, 2006
Anxiety; buttocks; discipline; birdsong in the morning; equipment; foursomes; posture; response to partner's needs; sixty-nine; swinging: these are all entries in the index of Dr Alex Comfort's classic 1972 text The Joy of Sex.
The Joy of Golf
There'll be no headbutts, no drugs scandals, no dodgy back-room deals. But then the Ryder Cup is not like other sporting showcases. This, after all, is golf. So how is it that a pursuit so pure, traditional and apparently sedate is such a turn-on? Brian Viner gets to grips with the irresistible attraction of swinging
But had Dr Comfort written a companion volume called The Joy of Golf, the index would have looked remarkably similar. The anxiety before driving off the first tee in front of a gaggle of spectators; the lovely birdsong around a dew-covered first green; the need to stick out the buttocks when addressing the ball; the discipline required on a tight, tree-lined par-five; the importance of decent equipment; the pleasure of foursomes; the significance of posture; the encouragement one should always give one's partner; the final-round 69 that Phil Mickelson scored to win this year's US Masters; and, of course, the mechanics of the swing. Clearly, golf is the new sex.
There are other, more direct associations between these two popular leisure activities. Some years ago I played a round near Mâcon in France on a course inspired by the body of the course architect's lover, and owned by a businessman called Patrick de la Chesnais, himself the former husband of the sexy Hollywood actress Stefanie Powers. The adjacent 15th and 17th fairways were conspicuously shaped like a woman's legs, with the greens as gently-rounded buttocks, guarded - I'm not kidding - by a vaguely triangular water hazard full of wavy bullrushes. . . .
The Chronicle Herald
Halifax, Nova Scotia
September 20, 2006
Hart to Hart: The Complete Second Season (Sony) — Robert Wagner and Stefanie Powers are husband-and-wife sleuths in the mystery series created by Sydney Sheldon. A five-disc set has year two's 20 episodes.
Daily Mail
by CAROL SARLER
21st September 2006
An orgasm coach on TV and a film about sex toys - if that's progress I'm Queen Victoria
Channel 4, scraping the bottom of its favourite barrel in an effort to titillate its jaded viewers, has come up with a wheeze that makes the rest of reality television look like high culture.
It is preparing to screen a programme called Masturbation For Girls that features — I kid you not — an 'orgasm coach' who teaches three ladies all her tricks, which they will demonstrate, live, to camera.
Should you seek to escape for a night out at the pictures instead, you may find you fare little better. The eagerly anticipated high point of the up-coming London Film Festival is Shortbus, a movie that has astounded many by getting a standard 18 certificate in the first place, and which has as its central character a female sex therapist who is in pursuit of achieving climax for herself.
Perhaps she has never heard of the Rampant Rabbit — although if she hasn't, she soon will; this shocking-pink plastic contraption is also to make its film debut this week.
For the uninitiated, the RR is a vibrator that lays claim to being 'the world's favourite sex toy' following a starring role in TV's Sex And The City.
And now we have Rabbit Fever, a film which is devoted entirely to the dubious appeal of the wretched rabbit, and which is being advertised heavily with the tagline 'Can you feel the buzz?'
Bizarrely, its (first time) writer and director have somehow persuaded our good and great to take cameo parts, among them Emily Mortimer, Germaine Greer and Stefanie Powers.
Their collective effort might well prove to be — as Mail film critic Chris Tookey informs me — one of the worst films of all time; nevertheless, it conspires with C4 and Shortbus to place female masturbation as quite the fancy of the moment.
There is, of course, nothing new about the activity — nor would anybody suggest it to be unhealthy, either. Whispers of ruination, infertility and going blind went out (at least one has to hope) with the Dark Ages.
What is new, unhealthy and, I would argue, retrograde is for it to be made this public, dished up for the entertainment of the mass market with a defiance which proclaims that to do so is, in some way, a mark of women's progress and of liberation, when in fact it's nothing of the kind. It's just cheap.
Mark Twain famously dismissed the act as an overrated pastime: 'As an amusement it is too fleeting. As an occupation it is too wearing.
And it is unsuited to the drawing room.' Note, please, the last point.
THE unforgettable scene where Meg Ryan faked an orgasm in When Harry Met Sally was funny precisely because of the incongruity of its public location; had she been in the privacy of a bedroom, it would have been just another sex scene in just another film. In a café filled with ogling strangers, it became hilarious by dint of its toe-curling embarrassment.
No such bashfulness for the ladies lining up to appear in the Rampant Rabbit film or to strut their intimate stuff for a million strangers tuned to Channel 4. (One wonders whether they would have been quite so enthusiastic about taking part in a film devoted entirely to blow-up dolls, or other such demeaning male sex 'toys'? I rather doubt it.)
There is an excuse, mind. There always is. Sometimes it is justified as being in the interests of science or education. Or failing that, there is that great old standby of describing prurient tosh as 'art' that challenges 'bourgeois sensibilities'.
Whichever the excuse, it just doesn't wash. Because however high-minded your justification for exposing your private parts to public scrutiny, you still wouldn't be doing it unless either you enjoyed it or you were paid for it.
So call it anything you like, but that makes the women complicit in
these latest offerings at heart no different from either exhibitionists or porn stars. Or both.
And if they thought for a moment that their antics make them liberated women — the product and achievement of the years during which many of us fought for newer, brighter freedoms — then, my deluded little darlings, you can take it from me: it doesn't.
What women fought for was to become the equals of men, not to become exactly like them — which is just what this current vogue appears to invite them to try to be.
Take, for instance, the sales pitch for our friend the Rampant Rabbit: it promises, much in the manner of a Boys' Own guide to sports cars, 'zero-to-orgasm in 60 seconds'. Perfectly suited to the sexuality of Neanderthal men, perhaps, but not — surely not? — the sexuality of most women.
Male and female sexuality are inherently different, for all sorts of biological and sociological reasons.
Boasting, showing-off and notches on the bedpost have always been the province of the male, and in particular a certain type of oaf who will go to great lengths to lie about bedding wenches while dismissing as trollops any wench whose promiscuity is rumoured to match his own.
This may well, I grant you, be an inequality that deserves to be
challenged — but apeing the swaggering male strut is not the way to go about it. The right we seek is not the right to be like men but the right to be like women. And respected for it.
Female sexuality, left to itself, is altogether a more personal, nurturing thing. Few women feel arousal in the abstract; it's not like a hunger or a thirst which they pop out to assuage with whoever is handy.
FEW women seek sex with strangers, and where they do — for example, at swingers' parties or within this ghastly practice they call 'dogging' — it is widely observed that the instigators are usually their male partners.
Which is why this latest rash of explicit offerings on the TV and cinema screen fills me with such a profound sense of disappointment and unease.
For when misguided dollies are persuaded to prove their 'liberation' by letting it all hang out in the most public of arenas, who do we think they are appealing to? Not other women, that's for sure.
No. All they have done is turned themselves into sex objects, there for the salacious pleasure of priapic men, to be exploited and gawped at and belittled by those who get their kicks from peeping at women's naughty bits.
They can call it science, education or art if they like. All they've really done is got their kit off for the dirty mac brigade.
If that's progress, I'm Queen Victoria. And I'm not amused.
Oct 1, 2006
DVD Review: Hart to Hart - The Complete Second Season
Monsters and Critics
Glasgow,UK
Opening narration voice-over:
Max: This is my boss, Jonathan Hart - a self-made millionaire. He's quite a guy. This is Mrs. H. She's gorgeous. She's one lady who knows how to take care of herself. By the way, my name is Max. I take care of both of them, which ain't easy; 'cause when they met... it was murder!
Thus began one of the Aaron Spelling legacies from the early 1980's, under his Spelling-Goldberg banner, created by Sidney Sheldon.
Season two of Hart to Hart was a high production value American television series on ABC that aired 1980-1981, starring Robert Wagner as Jonathan Hart and beautiful brunette, doe eyed Stefanie Powers as his wife Jennifer, who lived in a wealthy section of Los Angeles. The show was a huge hit for ABC and immensely popular, hitting its stride in this second season.
The premise of Hart to Hart involved murder, mayhem and mystery that always found it's way to CEO Jonathan Hart of Hart Industries, a global conglomerate and his gorgeous wife Jennifer, a freelance journalist, putting them into crazy situations that required sleuthing and cocktails at five o'clock.
Notable performances dot the episodes throughout and include appearances by such excellent actors as Richard Romanus, Amy Madigan, Jerry Stiller, Anthony Newley, Joanna Kennedy, Lois Chiles and Joe Pantoliano.
Delightful dangerous doings, watching this show as a young student made me appreciate the benefits a butler makes in one's life. Always making sure the olives are stocked, mail and dry cleaning picked up and the dog is fed.
The Harts spent all their down time acting as amateur detectives, and in every episode they were written into highly implausible, yet still fun to watch scenarios of international smuggling, theft and espionage capers.
They also were the happiest couple on earth, being so filthy rich combined with looking like Powers and Wagner, who wouldn't? These two actually looked like a real couple, and had great on-screen chemistry to boot. Even the dog "Freeway" worked in the story.
Lionel Stander as Max the butler was an excellent cast member, and added juiciness to the Hart's urbane, fabulous world. In 1983 he won a Golden Globe for his "Max" in the Best Performance by an Actor in a Supporting Role in a Series, Mini-Series or Motion Picture Made for TV honors.
This being a Spelling produced show meant real money was spent on costuming, kick ass locations, superb art design, meticulous set decoration and top notch hair and makeup. The crafts people who worked behind the scenes outdid themselves.
Costumers Grady Hunt and Nolan Miller had the whole cast looking perfect in the eighties designer duds, and kudos to makeup supervisor Frank Westmore and artist Jane Aull, as well as hairstylist Ed Butterworth, Ramon Gow and Eddie Knight. Stefanie Powers hair was awesome! Her makeup flawlessly earth toned and glossed to perfection. Makeup and hair were a big deal in the eighties, as everybody who watched these shows emulated the Spelling protagonists to the letter.
The episode "Murder" cheat sheet:
Disc One episode 23: "Murder, Murder on the Wall" - When a bridegroom disappears abruptly and leaves his wife, who is an acquaintance of Jennifer's, to face a couple of thugs by herself, the Harts step in to help her. Tom Mankiewicz directed. Episode 24: "What Murder?" - Jonathan witnesses a murder. In his rush to approach the scene of the crime, he is hit by someone on a moped. The blow to his head causes temporary amnesia and the killer must get rid of Jonathan before his memory returns. The late John Patterson directed. Episode 25: "This Lady is Murder" - Jennifer is mistaken for her look-alike, Dominique, and is kidnapped by ruthless killers. With the help of an unscrupulous columnist, the police, and the real Dominique, Jonathan devises his plan to save Jennifer. The late Earl Bellamy directed (died in 2003), Notable performance by Richard Romanus guest starred as Marty Benton. Episode 26: "Murder is Man's Best Friend" - Normally finicky, Freeway is quite fond of a new dog food and ends up in a dog food commercial. When the Harts have a party, some of Freeway's new food is mistakenly ingested by some guests who then behave as if drugged. Jennifer and Jonathan are in danger when they attempt to find out its secret formula. Tom Mankiewicz directed.
Disc Two episode 27: "'Tis the Season To Be Murdered" - Industrial espionage is a problem at Hart toy company. When the investigator Jonathan has hired is murdered, the Harts go undercover in an attempt to foil the crooks and save the company from financial destruction. The late Earl Bellamy directed. Episode 28: "Murder Wrap" - During an Opening Night party for a new Egyptian exhibit at the museum, the man who discovered the tomb is murdered. The Harts become involved in the investigation when Jennifer sees a mummy at their home. Michael Hiatt directed. Episode 29: "Murder In Paradise" - At a croquet game in Hawaii, a player is stabbed and dies at Jonathan's feet, muttering something about a key. Two of the spectators suddenly become interested in the Harts. Tom Mankiewicz directed. Episode 30: "Ex-Wives Can Be Murder" - Max's ex-wife, presumed dead for over 10 years, arrives in Los Angeles. Her friend is murdered, so she calls Max for help. When two thugs try to grab her at the park, she is injured and Max is kidnapped. Demands are made for a necklace about which the Harts know nothing. The late Alex March directed.
Disc Three episode 31: "Murder is a Drag" - At the opera, Jonathan is mistaken for a hit man and is given an envelope containing $100,000 for the job. When the messenger is murdered, Jonathan poses as the hit man in an attempt to save the victims life. The late Leo Penn directed, Penn was Sean, Chris and Michael Penn's father. Episode 32: "Hart-Shaped Murder" - Jennifer orders three chocolate valentines. Someone makes a mistake and delivers the wrong heart for the Harts. One contains a smuggled object that the thieves want at any cost. Harry Mastrogeorge directed. Episode 33: "Slow Boat to Murder" - Chief accountant of Hart Industries, Stanley Friesen, is set up to take a murder wrap after an evening on the town. In an attempt to clear him, the Harts retrace his steps and discover a gambling ring using the Nightlife as a cover. Leo Penn directed. Notable performances by Joanna Cassidy as Belle, and a young Amy Madigan as Adele. Episode 34: "Murder in the Saddle" - To strip mine the entire area, a ruthless mining tycoon is driving cattle ranchers out of business by poisoning the livestock via the stream that waters the properties. The Harts get involved when Jennifer's colt is poisoned. Earl Bellamy directed.
Disc Four episode 35: "Homemade Murder" - An employee delivers some papers to Jonathan, along with evidence of a murder. She hides the clue in Freeway's toy and the Harts are held hostage by the murderer. Tom Mankiewicz directed. Episode 36: "Solid Gold Murder" - Vince, a friend of Max's, arrives in USA to open a chain of health clubs. International criminals smuggle a solid gold barbell into the country with Vince's entourage. Earl Bellamy directed. Episode 37: "Getting Aweigh with Murder" - Jonathan and Jennifer set sail, incognito, on a gambling ship in an attempt to crack a counterfeiting ring. Harry Mastrogeorge directed. Episode 38: "The Murder of Jonathan Hart" - The Harts' unscrupulous lawyer hires an assassin to eliminate Jonathan with plans to court and marry Jennifer and thus gain control of the sizeable estate. Earl Bellamy directed.
Disc Five episode 39: "The Latest In High Fashion Murder" - Jennifer's article on the world of high fashion leads to Jonathan and Jennifer modeling for a famous photographer while trying to determine who is murdering beautiful models. Tom Mankiewicz directed Notable performances were by Joe Pantoliano as Nate Volkman, Shari Belafonte as Cleo, and Lois Chiles as Scottie/Mary Scott. Episode 40: "Operation Murder" - Jennifer, flying a kite in the park, falls and hits her head. She's hospitalized with a slight concussion. While in hospital, she witnesses the murder of another patient and tries to convince Jonathan of the strange crime is being covered up. John Patterson directed. Episode 41: "Murder Takes A Bow" - Jennifer's death scene in an amateur production could become the real thing when the director realizes she can identify him as a murderer of a young playwright. Harry Winer directed. Notable performances by Jerry Stiller as Myron Finkle, hysterical! and Anthony Newley as Tony Vacarro. Episode 42: "Blue Chip Murder" - The Harts return home and find their house ransacked. During the clean-up, they discover a hidden hallway and vault. The Harts and their friend Ida are sealed in the vault when the crooks return to claim the muni bonds hidden in the vault. Dennis Donnelly directed.
Hart to Hart: Complete Second Season is now available at Amazon. As of yet, there is not a release date for the UK.
October 2, 2006
Los Angeles, CA

Ever Wanted to Party at the Playboy Mansion? Rare Opportunity for the Public to Meet Celebrities at an Oct. 14 Benefit
Hosted by The Wildlife WayStation
Hugh Hefner only rarely opens the gates of the fabled Playboy Mansion estate above Beverly Hills, California, to the general public. One exception he is making is going to occur on Saturday, October 14, at a celebrity-crowning benefit event that will be attended by Nicholette Sheridan of "Desperate Housewives," comedian Bill Maher, music maestro Quincy Jones, Sean Astin, Dyan Cannon, Lou Ferrigno, Mick Fleetwood, Dennis Hopper, Stefanie Powers, Mickey Rooney, Gene Simmons, Loretta Swit, and Betty White. Los Angeles entrepreneur Robert "Bob" Lorsch is inviting everyone across America to an afternoon of great food, music by Marilyn McCoo and Billy Davis, Jr., an auction of one-of-a-kind items, and a chance to meet not only celebrities, but wild tigers, chimpanzees, and other creatures from The Wildlife WayStation. All money raised at this benefit will go to the WayStation, which is celebrating its 30th anniversary as the world's largest rescue sanctuary for injured and abused wild animals.
For further information or to buy tickets: 310/278-3886.
Theatre Mania
October 4, 2006
Hines, Rae, Rigby, Russell, Uggams Added to Jule Styne Centennial Lineup
Mimi Hines, Charlotte Rae, Cathy Rigby, Jane Russell, and Leslie Uggams have been added to the lineup for Everything's Coming Up Roses: The Jule Styne Centennial, a special benefit concert for The Actors' Fund to be held at on Saturday, November 11 at the Luckman Fine Arts Complex in Los Angeles.
The event will be directed by David Galligan, with musical direction by John McDaniel. Other stars scheduled to appear include Jason Alexander, Carol Channing, Tyne Daly, Nanette Fabray, Peter Gallagher, and Robert Morse, as well as Obba Babatunde, Patrick Cassidy, Carole Cook, Nancy Dussault, Ilene Graff, Randy Graff, Sam Harris, Bill Hutton, Steve Kirwan, Dale Kristien, Vicki Lewis, Rod McKuen, Karen Morrow, Michael Nouri, Stefanie Powers, Cathy Rigby, Alice Ripley, Andrew Samonsky, Sally Struthers, Bruce Vilanch, Lillias White, Jane Withers, and Jo Anne Worley.
Styne was the award-winning composer of such musicals as Gentlemen Prefer Blondes, Peter Pan, Bells Are Ringing, Gypsy, and Funny Girl. He also won an Academy Award for "Three Coins in the Fountain," which he wrote for the film of the same title.
Tickets for the November 11 concert range in price from $40 to $250 and are available by calling 323-933-9266, ext. 35.
Los Angeles Daily News - Los Angeles,CA,USA

October 12, 2006

Charitably 'desperate'

"Desperate Housewives" creator Marc Cherry, comedian Jay Mohr, "Housewives" co-star Andrea Bowen and "American Idol" contestant Ace Young were among the youngsters at the Thalians' 51st Anniversary Ball lastSaturday night.

"If you're wondering why it's so cold in here, it's to keep most of you alive!" Mohr joked to the mostly elderly members of the entertainment industry's leading nonprofit organization dedicated to the treatment of mental health.

Doris Roberts presented Cherry with the Mr. Wonderful Award at the Hyatt Regency Century Plaza Hotel before a crowd that included Debbie Reynolds, Connie Stevens, Stefanie Powers, Barbara Eden, Mitzi Gaynor, Mamie Van Doren, Valerie Harper, Dick Van Patten, Hugh O'Brian, Jack LaLanne, Jayne Meadows, Jack Klugman, Ruta Lee and Jane Russell.

Cherry got the award for his efforts to focus on the need for mental health on both the screen and in life.

"What do I know about shaky mental health?" Cherry asked during the evening that raised more than $400,000 for the Thalians Mental Health Center at Cedars-Sinai. "Well, I work with four actresses over 40! You do the math!"

The Ms. Wonderful Award went to actress/entrepreneur Stevens and her actress daughters Joely Fisher and

Tricia Leigh Fisher. The family trio — as well as Bowen, Young and Reynolds — all sang during the evening, while Cherry playfully dissed his "Housewives."

"It's a man-eater," Cherry chortled when he bid $3,000 to name a tiger cub.

"So I'm calling it Eva Longoria!"

The Almanac
October 24, 2006
Thursday, Nov. 2, the 306th day of 2006 with 59 to follow.

The moon is waxing. The morning stars are Saturn and Mars. The evening stars are Jupiter, Mercury, Pluto, Venus, Uranus and Neptune.

Those born on this date are under the sign of Scorpio. They include frontiersman Daniel Boone in 1734; Marie Antoinette, queen of France, in 1755; U.S. President James Polk in 1795; U.S. President Warren G. Harding in 1865; astronomer Harlow Shapley, a pioneer in studies of the Milky Way, in 1885; trumpeter Bunny Berigan in 1908; actors Burt Lancaster in 1913 and Ray Walston in 1914; Australian tennis player Ken Rosewall in 1934 (age 72); columnist, commentator and presidential candidate Pat Buchanan in 1938 (age 68); author Shere Hite and actress Stefanie Powers, both in 1942 (age 64); actress Alfre Woodard in 1953 (age 53); and singer k.d. lang in 1961 (age 45).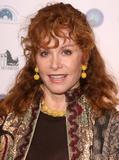 Press Telegraph
October 29, 2006
Stellar night for observatory
L.A.: Luminaries mark attraction's reopening this Friday.
Stars gazed upon stars Sunday at a Galactic Gala at Griffith Observatory to honor this week's re-opening of Los Angeles' No. 1 landmark.
Hollywood stars, city officials and supporters of the $93 million makeover sailed across a heavenly blue carpet to hail the observatory's Friday public launch.
"We've been waiting five years and are really excited to be here tonight," said Leonard Nimoy, who played "Spock" on the epic "Star Trek" series and who has donated $1 million toward a 200-seat theater built in his name.
VIPs - from Buzz Aldrin, the second human to set foot on the Moon, to actress Angela Bassett - were awed by the observatory that shone atop Mt. Hollywood.
Built in 1935 as a gift to Los Angeles by Griffith J. Griffith, the art deco observatory has become one of the city's most cherished icons.
Now, after four years of meticulous restoration, what has been dubbed "the hood ornament of Los Angeles" will re-open its doors to the public on Friday.
"To all the people of Los Angeles: One of the greatest buildings in the world is coming online," said Councilman Tom LaBonge, an observatory booster. "This is the greatest spot in the whole universe."
Outside, the historic
observatory gleamed in ivory, its bronze solar and planetary telescopes guarding its green rotunda and copper planetarium dome.
A terrace now surrounds the movie icon and home to 2 million visitors a year, for the best views of Los Angeles. An outdoor transit marks the seasonal path of the sun.
Inside, the 40,000-square-foot observatory is now twice its former size with a new planetarium, theater, cafe, classroom, bookstore and more than 60 exhibits.
But with less than 200 parking spaces and a crush of expected visitors, the observatory will allow no drive-in access in the first months after re-opening.
Instead, visitors must make advance timed reservations to shuttle up the hill for a fee. Hikers and cyclists can visit free with a 48-hour advance reservation.
At Sunday's gala, guests walked toward the bust of James Dean, with views of the Hollywood sign and a glorious sunset over the Pacific Ocean. The party, which was hosted by Friends of the Observatory and organized by the Los Angeles Sports Entertainment Commission, included such local celebrities as James Spader, Courtney B. Vance, Lucy Lawless, Art Linkletter and Stefanie Powers.
"I adore this place," said Powers, who visited the observatory as a child. "It has all the grace and elegance of the age in which it was constructed - it was the Golden Age of Hollywood."
But it was Aldrin who commanded the galactic celebration.
"We've been coming to the Griffith Observatory for 35 years" the astronaut said, gazing at the moon above the planetary dome. "This is the place to come for L.A. night life."
Nov 28, 2006
Shortening those Polisczyh Names
My column today is about a 16-year-old kid who recently took back the complex Polish name (Mikolajczyk) his parents rejected, when he was 4, for one that would be easier for them and their kids (Michaels.)
We can all agree that's a rare thing, to choose complexity over ease. Here's a partial list of well-known Polish (or partly Polish) people who did the opposite:
Actress Stefanie Powers (star of "The Girl from U.N.C.L.E."), born Stefania Federkiewicz.
Writer Joseph Conrad, born Teodor Josef Konrad Korzeniowski.
Actor Ted Knight (who played Ted Baxter on the "Mary Tyler Moore" show), born Tadeusz Wladyslaw Konopka.
Boston Red Sox player Carl Yastrzemski, born Carl Jastrzebski.
Pianist Lee Liberace, born Wladziu Valento Liberace.
Actress Carrol Baker, born Karolina Piekarski.
Politician and Presidential candidate Ed Muskie, born Edmund Sixtus Marciszewski.
Meanwhile, and just FYI, I have kept my birth name, but know that the family name was changed to Ager in the 1930s from the Polish "Jajo," which means "egg" and is pronounced YAH-yo. I have plenty of trouble with Ager, having to spell it all the time, and and correct its pronunciation . (It rhymes only with "vaguer," or NBC News Correspondent Bob Hager.)
I wonder if Jajo might be easier for everybody.
December 5, 2006
Holiday Shopping for Charities
Stock Photo
For many families, having extra money to donate to charitable causes during the holiday is impossible. But one group of givers has found a way to raise money for their favorite cause just by doing their holiday shopping online. Fans of Stefanie Powers best known for her work on the television show Hart to Hart, have been raising money for Powers' non-profit organization, The William Holden Wildlife Foundation by shopping online. Supporters of the foundation are able to shop for everything from arts and crafts to yoga and Pilates products, and everything in between including books, DVD's, gardening items, jewelry and toys. Each time someone shops through the specially designed website, the retail establishment pays a referral fee or commission that goes to the Foundation.
The Foundation has been instrumental in carrying out the late actor's work in animal conservation in Kenya, Africa. The goals of the Foundation include education on the important role animals play in the balance of nature, and to research and implement strategies that protect and grow endangered animal populations. The Foundation has been successful in re-introducing the nearly extinct bongo back to its native Kenya 35 years after Holden began the work of preserving and breeding the bongo in U.S. zoos.
Nancy Dugan, a long time fan and friend of Ms. Powers, runs the fan-based fundraising effort that has included a variety of events including auctions of memorabilia, spare change drives, and shopping through the stefaniepowers.org website. Since organizing fundraising efforts for the Foundation in 2003, Ms. Dugan and the fans of Stefanie Powers have raised nearly $70,000 for the William Holden Wildlife Foundation.
You can help continue William Holden's work in wildlife conservation by shopping now and all year-round at Saving The Earth's Future
Learn more about the William Holden Wildlife Foundation.