Robert Pine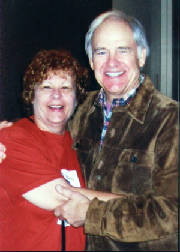 Robert Pine is probably best known for his role as Sgt. Joseph Getraer on the hit NBC television series CHiPs. He also starred in the TV series Black Scorpion, and in soap operas Days of Our Lives and on The Bold and the Beautiful. He has made many guest appearances in TV series and on various game shows. There are several films to is credit as well.
***
John Davidson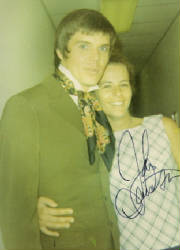 John Davidson
is a perennial nightclub and concert favorite who has also starred in many national tours, in stock productions, off-Broadway, and on Broadway. John has several television series' to his creditand has made sporadic appearances in films including the disaster epic,
The Concorde: Airport '79
, and
Edward Scissorhands.
***
Earl Holliman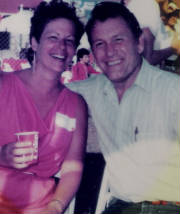 Earl Holliman first appeared in film in 1953 and three years later won the Golden Globe Award for Best Supporting Actor in a Motion Picture for his performance in the 1956 film,
The Rainmaker
. In addition to a successful career in films, Earl Holliman became a popular television personality through his roles as Sundance in
Hotel de Paree
and as Lt. Bill Crowley opposite Angie Dickinson in
Police Woman
that ran from 1974 to 1978. He also had the distinction of appearing in the first episode of
The Twilight Zone
titled "Where is Everybody?" which aired on October 2, 1959. Earl is an animal-rights activist and reigned as President of
Actors and Others for Animals
for 31 years, until his retirement in Spring 2007.
***
Kathy & Janet Lennon
In 1955 television audiences watched as four sisters, (Janet age 9, Kathy age 12, Peggy age 14 and Dianne age 16), made their television debut on The Lawrence Welk Show. The Lennon Sisters were such a hit with the audience, that they became regulars on The Lawrence Welk Show for 13 years. They also starred in their own musical variety show. In the 70s, The Lennon Sisters were regular guest stars on Andy William's television show and frequently performed with him in Las Vegas. Peggy and Dianne retired but Kathy and Janet continue to perform, (with daughters, younger siblings, and nieces), as the Lennon Family, at theatres in Branson, Missouri.
***
Mickey Rooney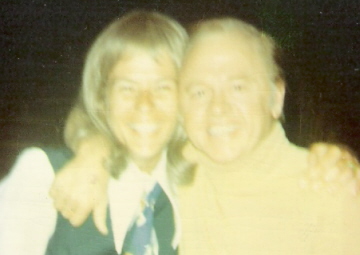 Mickey Rooney is a man with over 200 films under his belt, television series and appearances, and musical theatre. He earned an Honorary Oscar for Lifetime Achievement, a special Juvenile Oscar he shared with Deana Durbin in 1939, five Oscar nominations, one Emmy Award, five Emmy Nominations and two Golden Globes. Mickey's career has extended through many generations and in many different directions. Mickey Rooney: actor, survivor, inventor and Hollywood living legend.
***
Stephanie Zimbalist
Stephanie Zimbalist
is a singer, dancer and actor. Although theatre is her "first love," she is best known for her starring role in
REMINGTON STEELE
alongside Pierce Brosnan. Stephanie is third generation of a show business family. Efrem, her dad, starred in several television series during the 1960s. Her grandfather, Efrem, Sr was an extraordinary violinist and grandmother, Alma Gluck was an outstanding Opera singer. Stephanie is an advocate for abused kids, and, along with her dad, works tirelessly for
ChildHelp
.
***
Christopher Stone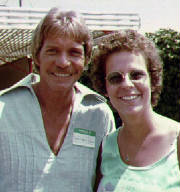 Christopher Stone was a semi-regular on The Bionic Woman and co-starred with his wife, Dee Wallace Stone, in The New Lassie. He directed several of those episodes. In 1995, Stone died of a heart attack at age 53.
***
John Astin
Because of his successful run as Gomez Addams, television's lovable, slightly crazed patriarch of the original Addams Family series, John Astin, is often called a "pop-culture icon." Though he has performed in many motion pictures and television guest spots, Gomez remains one of his favorite. He is currently a full-time Visiting Professor of Theatre Arts in the Writing Seminars Department at Johns Hopkins University, Baltimore, MD, where he is also founder and director of the Hopkins University Theatre.
***
Michael Cole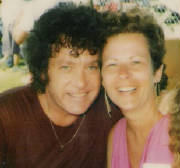 Michael Cole is best known for his character Pete Cochran on The Mod Squad which ran from 1968 to 1973. He has also appeared in numerous films and TV shows and has done a great deal of stage work.
***
Edd Byrnes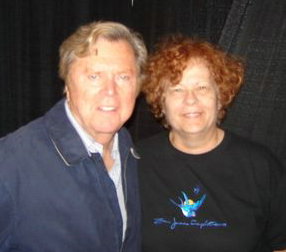 Edd Byrnes most famous role was as Gerald Lloyd "Kookie" Kookson III on the TV detective series 77 Sunset Strip. Kookie's constant tending of his ducktail haircut led to many jokes and a hit song, "Kookie, Kookie, Lend Me Your Comb", which he recorded with Connie Stevens. The Kookie character was an example of the hipster sidekick who talked jive and knew "the word on the street". He also played the role of Vince Fontaine in the 1978 smash movie Grease.
***
Fred MacMurray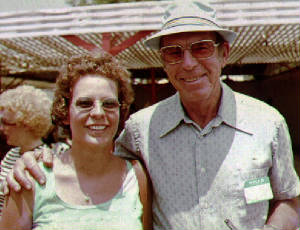 Fred MacMurray was an actor who appeared in over one hundred movies and a highly successful television series during a career that lasted from the 1930s to the 1970s. MacMurray is well known for his role in Double Indemnity. He is best remembered for his role as Steve Douglas on My Three Sons which ran for 12 years.
***
Carole Cook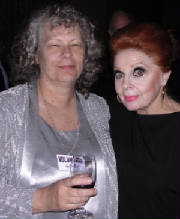 Singer/comedienne and a cabaret favorite in
New York
and
Los Angeles
, Carole Cook has scores of musical comedy shows to her credit. She and husband Tom Troupe are fondly known as "the Lunts of L.A. Theater," as they have co-starred in many plays together over the years. Carole and Tom received a joint honorary 2002 Los Angeles Ovation Award for Career Achievements. For over two decades Carole has been heavily involved in the fight against AIDS and performing diligently at
S.T.A.G.E.
benefits for AIDS research.
***
Rod McKuen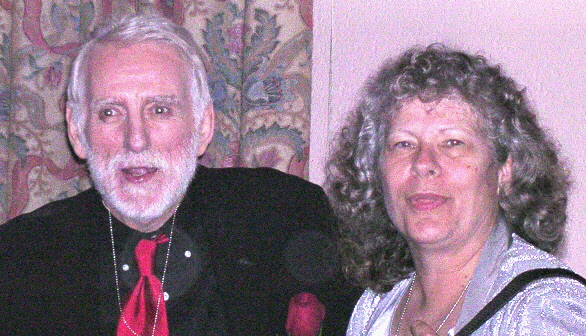 After a series of jobs,
Rod McKuen
began to excite audiences with his poetry readings. He moved to
New York City
to compose and conduct for the TV show
The CBS Workshop.
He became an icon across college campuses for his ability to capture in verse the feelings of anxiety, love, confusion, and hope that were common during the
Vietnam
era. His public readings had the drawing power of a rock concert. His commercial success is unparalleled in the field of modern poetry. His poetic works have been translated into a dozen languages and sold over 65 million copies. Throughout his career he has continued to enjoy sell-out concerts around the world and appears regularly at
New York
's famed Carnegie Hall.
***
Phyllis Newman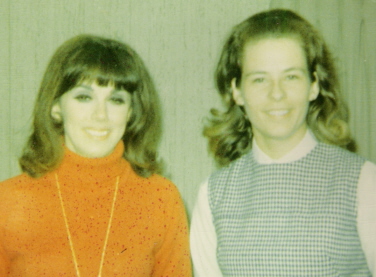 Phyllis Newman is a Tony Award-winning actress and singer for her Best Featured Actress role in Subways are for Sleeping. She made her Broadway debut in Wish You Were Here in 1952. She has been nominated twice for the Drama Desk Award and received a second Tony nomination for Broadway Bound.
***
Linda Gray
Linda Gray is best known for her role as Larry Hagman's long-suffering wife, Sue Ellen Ewing on the television series Dallas. She was also a director of the popular show. She has also done extensive stage work, movies, and commercials.
***
Linda Henning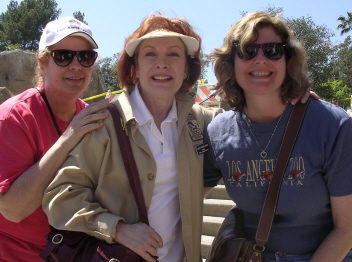 The daughter of veteran writer and TV producer Paul Henning and Ruth Henning, Linda Henning originally studied to be a dancer. After appearing as a dancer in
Bye Bye Birdie
she landed the role of Betty Jo on
Petticoat Junction
for seven years. Following its cancellation, Linda made numerous appearances on episodic TV and game shows and performed in stage plays and musicals all across the
U.S.
Since the 1980's Linda has been a member of the
California Artists Radio Theatre
(CART) repertory troupe and volunteers as a docent at the LA Zoo.
***
Buzz Aldrin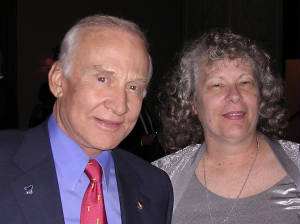 On July 20, 1969, Apollo 11 astronauts Buzz Aldrin and Neil Armstrong landed their Lunar Module on the moon's Sea of Tranquility and became the first two humans to walk on the moon. This unprecedented heroic endeavor was witnessed by the largest worldwide television audience in history. He was presented the Presidential Medal of Freedom, the highest honor amongst over 50 other distinguished awards and medals from the United States and numerous other countries. Since retiring from NASA, the Air Force, and his position as Commander of the Test Pilot School at Edwards Air Force Base, Dr. Aldrin has remained at the forefront of efforts to ensure a continued leading role for America in manned space exploration. To advance his lifelong commitment to venturing outward in space, he founded his rocket design company, Starcraft Boosters, Inc., and the ShareSpace Foundation, a nonprofit organization devoted to opening the doors to space tourism for all people.
***
Kaye Ballard
Kaye Ballard performed in both Burlesque and Vaudeville, and before discovering the musical theatre, toured with the Spike Jones Orchestra for two years as featured vocalist and tuba player. She has appeared in just about every talk/variety show and nightclub in USA, in movies, and on Broadway.
***
Anna-Maria Alberghetti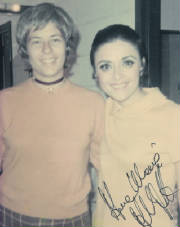 Anna Maria Alberghetti made her Carnegie Hall Debut at the age of 13. She has appeared on concert stages with Symphony Orchestras, on Cabaret stages and on the Broadway stage where she was awarded a Tony for Best Actress in a Musical for her role in Carnival. Ed Sullivan introduced Anna Maria to television audiences. Her recording career has included performances for Capitol Records, Columbia Records, Mercury Records and MGM Records.
***
Harry Belafonte
Harry Belafonte has received a Tony, Grammy, and Emmy Award plus six Gold Records. He has received the Kennedy Center Honors, the National Medal of Arts and a Grammy Lifetime Achievement Award. Belafonte had been a major concert draw since his first world tour in 1956 and continued to perform before audiences globally until his last concert in 2003 when he retired from performing.
***
John Gary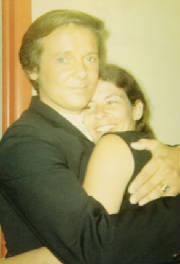 John Gary
was considered to be one of the best crooners due to his extaordinary breath control, his tonal quality, and his exceptionally wide range of three octaves. Gary was a stylized singer, who recorded 23 albums for RCA Victor Records. John sang in movies, on Broadway, had his own television show, and appeared at Carnegie Hall, with numerous symphonies.
***
Lisa Pelikan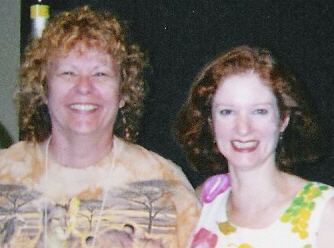 Lisa Pelikan is a graduate of the Julliard School in New York and has appeared in over 50 films, on the Broadway and LA Stage, and in many TV series. For her one-woman show about Zelda Fitgerald, ("Only A Broken String of Pearls"), she won the Drama-Logue Award.
***
Marjorie Lord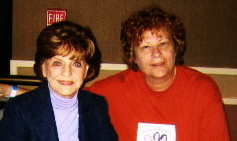 Marjorie Lord is best known for playing Kathy "Clancey" Williams (Danny Thomas's TV wife) on Make Room for Daddy and later, Make Room for Granddaddy. Lord also appeared in the musical drama and has penned her memoires in A Dance And A Hug.
***
Leslie-Anne Down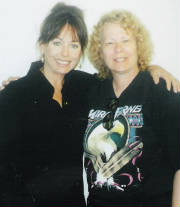 Lesley-Anne Down began modelling for commercials at the age of ten and was voted Britain´s Most Beautiful Teenager a few years later. She quickly moved on to an acting career and made a national impact in
Upstairs, Downstairs
. She received the Golden Boomerang Award for Most Popular Supporting Female for her role as Jackie on
The Bold And The Beautiful
in 2006.
***
Kathleen Noone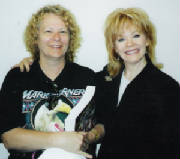 Kathleen Noone, a classically trained actress, is well remembered by fans of the soap opera genre as Ellen Dalton on All My Children, Claudia Whittaker on Knots Landing, and as Bette Katzenkazrahi on Aaron Spelling's Sunset Beach. Her other credits include movies of the week, feature films, and repertory theatre.
***
Jennifer Darling
Jennifer Darling appeared on Broadway in How Now Dow Jones, and Fire. She performed in Shakespeare in Central Park for Joseph Papp, and in the soap opera The Secret Storm. She was a regular in The Six Million Dollar Man and The Bionic Woman. In 1977, she joined the cast of Eight Is Enough. Since that time she guest starred in numerous TV series and TV movies and continues with her voice over work.
***
Carol Lawrence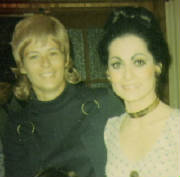 Carol Lawrence is a musical theater actress, who has also made many appearances in film and on television. Lawrence achieved outstanding success with her role of Maria in the original Broadway production of West Side Story for which she received a Tony Award nomination. She has a tv series to her credit and has published a cookbook along with an exercise video.
***
Billy J Kramer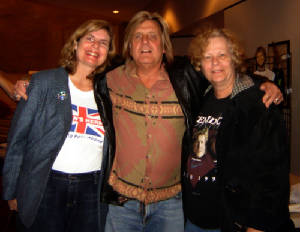 Billy J. Kramer
was a British Invasion-Merseybeat singer. He is known today primarily as the singer of various Lennon-McCartney compositions written specifically for him. He continues to perform with The British Invasion group.
***
Beverly Garland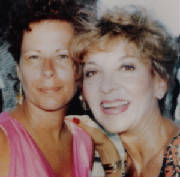 Beverly Garland is a veteran film, character and television actress with a half-century of credits. She is primarily known for her roles in film, soap operas and television. She achieved fame with her role as Fred MacMurray's second wife, Barbara Harper Douglas, in the long-running 1960s sitcom My Three Sons. Later she co-starred as Kate Jackson's mother (Dorothy 'Dotty" West) in Scarecrow and Mrs. King, as Stephanie Zimbalist's mother (Abigail Holt) in Remington Steele and as Stephen Collin's step-mom (Ginger Camden) in a recurring role on the hit WB series 7th Heaven.
***
Betsy Palmer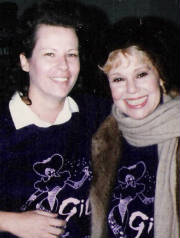 Though best known for her role as Jason Voorhees' mother in the horror film Friday the 13th, Betsy Palmer has appeared in numerous movies, TV programs and game shows. She was a long-time panelist on I've Got a Secret, she played Lt. Ann Girard, the most prominent female character in the movie Mister Roberts, and continues to lend her voice to animated characters in movies and on tv.
***
Bea Arthur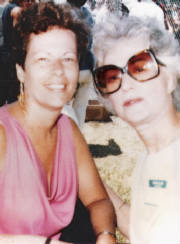 Beatrice Arthur is a two-time Emmy Award winning and Tony Award winning comedian, actress and singer. In an ongoing career spanning six decades, Arthur is perhaps best remembered for trademark role as the title character on Maude, and for playing Dorothy Zbornakon The Golden Girls. Arthur received her 1966 Tony Award with her portrayal of "Vera Charles" to Angela Lansbury's Mame.
***
Al Martino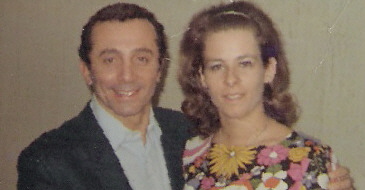 Known for such hits as Spanish Eyes and Can't Help Falling in Love in the 60s, Al Martino is presently in the midst of beginning his second career . . . his songs have flooded the radio and television airwaves in Germany, and he is consistently selling out concerts throughout the continent. Primarily a singer, he played the much sought-after role of Johnny Fontane in Frances Ford Coppola's epic film The Godfather and also sang the film's title score, The Love Theme From The Godfather.
***