Members are listed alphabetically by first name.
Anne B.
Oregon, USA

I'm a single parent by choice. Right now I have one child, two dogs, one hamster, and six fish. I first became a Stefanie fan during Hart to Hart. As I learned more about Stefanie I realized she was and is a very special lady. I also loved to hear about the work she did for the animals in africa since I love animals myself. At the moment I'm working as a temporary employee but I'm finally getting some data entry work. If I had a choice I would turn my love of quilting and quilt design into a buisness that would allow me to have more time with my son. Maybe soon it will happen. Who knows.
Anto (Antonella)
Udine, Italy
Here I am: Anto (Antonella), 27, Italian. I live in Udine, which is situated in the north-east side of Italy. I'm still studying at uni plus have three part-time jobs that allow me to gain enough to look after all my own expenses and possibly save some money to fulfil my main dream, which is spending some time (even LOADS of time lol) in an Anglo-Saxon country and improve my poor spoken English.

At the moment I don't have much spare time, but I have some passions that I like to follow: English (noooooo...!!! lol), reading, music, travelling a bit if I can, enjoying some time with my closest friends and make noise.

I became a Stefanie fan when I was about 5, just when H2H started being broadcasted. I've been keen on the series ever since, I was only a child but the sense of peacefulness, care and understanding I got from it was absolutely priceless. The last time I saw it on the Italian TV was 14 years ago, so I can't remember very well plots and details, all I have still clear in my mind are those feelings and Jennifer crying out 'Jonathaaaaaaan!!!', which still makes me laugh my ass off!

Other than that... well, not many films having Stefanie in the cast have been broadcasted here, and they don't pick them out for example during the summer when they show old films, so I don't have many chances to see her 'in action' (I know, I just have to ask...)

I didn't know how a great person Stefanie is until I joined this group, so I'm very thankful to you all for sharing your experiences and infos, as here in Italy it's not easy to find stuff about her. All I can say is that it's been worth it, I mean being a Stefanie fan without knowing a thing of her... she deseves all the support she gets.
Dayna F.
New York, USA
My name is Dayna Ferro. I'm 34 years old. Born July 25, 1967. Married with 2 kids Melissa and Jonathan (yes he was named after Jonathan Hart :-) ). I live on Long Island, NY. I have a cat named 'Tigger' and we have 3 trigger fish. I just got my first H2H fanfic posted. It's called "Jamie's Wish." I have my own website: Dayna's Page (http://expage.com/page/daynasdmpage.) It's not a H2H site but I'm proud of it since it's my very first attempt at putting a website together.

My first sighting of Stefanie Powers was a Disney Movie "Herbie the Love Bug" and then again with "Feather and Father." Then I saw her on Hart to Hart. I was 12 years old. For me that was the coolest show at the time and still is. I stopped doing my homework when the show came on. Always got busted by my mom. LOL!

Then in 1994 I saw an ad in my local paper that Robert Wagner and Stefanie Powers were doing 'Love Letters'. I told my hubby that we are going to see this play. He agreed. The day came and we were waiting on line to go into the theater. While we were waiting we found out that the play would be delayed because the theater lost power do to the storm the night before. My husband and I went for a walk around the outside of the theater. We stopped at the loading dock and were talking to some lady. I looked up and saw RJ standing there. I walked up and asked him if I can have a picture taken with him. He said, "sure but I'm up here and you're down there." I climbed up onto the loading dock. Mind you I'm in high heels, stockings and a dress. He was very impressed with that move. We took the picture. I treasure that picture til this day. After the play I got a chance to meet RJ and Stefanie. When I got up to meet them RJ turned to Stefanie and said "Stef this is the gymnast I was telling you about." I was like cool I impressed him. Stefanie laughed. I got RJ's autograph and when I got to see Stefanie she autographed the picture of she and RJ. I asked her for a hug and she gave it to me. When I was about to leave I felt a tug on my arm and RJ asked what about me? I gave him a kiss on the cheek and he returned a kiss on my cheek. Unfortunately my hubby didn't take pictures of any of this which makes me mad. I will remember that day forever and ever. It also made me more and more of a fan of theirs.
Helen J.
Oxford, England

I'm Helen Jones, 33 (8th April 1968), single, no children and have lived in Oxford, England for about the last 7 years. Originally from South Wales, I work as an accountant, hopefully one with a personality though - trying to prove we're not all boring!

I've recently made it in to the world of grown ups and have just bought my first house.(Maybe I should have a UK Harty Party!). I enjoy travelling (Africa is still one continent I haven't managed yet though), photography and socialising (okay, drinking).

I've been a fan of Stefanie's since the early 80's when I started watching H2H. I really can't remember what in particular stood out above any other actors at the time, but from then on I started to collect any articles I could on her. As I've got older though I've seen how committed she is to her causes - not just another pretty face, and my respect for her as a person increases all the time.

I haven't met her in the flesh, but did catch her in 'The Adjustment' in 2000 and as Max would say "She's gorgeous". I hope I'll get to see her on stage again in the years to come either here or the US.
Jan M.
Illinois, USA

Let's see...I'm 42, single and the mother of three totally spoiled cats. By profession I am a reference/acquisitions librarian which means that I get paid to play with books and on the Internet and to spend other people's money on books. What a deal! To say I like my job is an understatement. After work I like to travel, read ravenously, dabble in raw capitalism at eBay, both buying and selling, and collect Nancy Drew and other juvenile girl series books such as Judy Bolton, Beverly Gray and Vicki Barr.

My first encounter with Stefanie's work was Herbie Rides Again. I also loved her in McClintock! which is my own personal favorite western movie ever. The "Shoot him Daddy!" scene in that one is priceless. Of course I enjoy the Hart to Hart series but I think she has grown tremendously as an actress since then. Deceptions was an excellent example of that and last year's Someone Is Watching was a very powerful performance.

But I think I am almost more impressed with her accomplishments outside the entertainment field. To take a dream and a relatively small bequest and parlay them into a foundation with $3 million in assets and a highly successful education center is awesome. That she manages to oversee that and all the other projects she is involved with and still maintain a reputation for taking the time to be kind and gracious with her fans is a amazing feat. Quite a remarkable lady.
Jody P.
Ontario, Canada

I have been a fan of Stefanie's for a great many years. I would like to say it has been since Hart to Hart but I must admit, I first saw her in one of Disney's Herbie movies and just loved her. I was so glad when I could watch her in Hart to Hart. I use to sneak down the stairs to listen and partially watch the show on Tuesday nights at ten, as it was way past my bed time. Some how my mom and brother always knew but never said anything until the summer re-runs. Actually now I am surprised that my mom let me watch the show with all the sexual innuendo. I admire Stefanie for a great many things; but I think the most.. is her fight for animals and all she has done for the William Holden Wildlife Foundation.

In November I returned home after working in the states for the last 8 1/2 years as a nurse. I also enjoyed 5 months as a ships nurse on The Majesty Of The Sea's.

Right now I am in the midst of house hunting. Once I get the house I will be sure to have a "Harty Party" but it will be a while as the house may almost break me. Until then I am living with my folks in the same house I grew up in. Pretty neat eh. I was lucky enough to get a full time job with benefits and I am really enjoying it. I was missing my family and friends. I am glad I made the move home.

I enjoy walking, bike riding (Completed the 50 k in June) swimming, and just started to camp. How can I forget to mention watching the Hart to Hart eps I do have on tape.

I have my own web page: (http://www.geocities.com/jodypriest). Please feel free to visit it and let me know what ya think. It is nothing big, just pictures of me and me with friends. Hope to meet most of you soon. Have fun and live each day to the fullest.
Kim
Iowa, USA
My name is Kim and I am 32 years old and I live in Dubuque Iowa. I LOVE cats. I have er...... *Dramatic pause* hehehehe ... 18 .....yes that is not a typo ...18 cats.

I have been a huge fan of Hart to Hart since it was first on. I was very disappointed when it was cancelled. I watched it in re-runs during the late 80's and early
90's and I was thrilled when they made those movies together. I have all of the episodes on tape, but they were in a fire and they are not in the best of shape. I was totally excited when it came back on the Hallmark channel. I have started taping it again. I would love to know if anyone makes copies of their tapes to share. I would love to see anything you all have. I have a few things, but I'm sure there's a ton of stuff I have never seen. I am looking forward to being in this group. I joined several of the Hart groups, too.
Lo V.
Bergerac, France

Well, so let's start, my name's Laurence but I prefer people to call me Lo, faster and easier to pronounce. I'll be 30 on January the 25 and I work as a secretary.

I'm still single, though some of my friends keep pushing-pushing and pushing me again "to find" a hubby ! But I am not that desperate. Someone told me one day that "every jar has its lid somewhere". Well I'd like mine to come from the North rather than from the South, cause I can't stand heat.
I am not exactly the sporty type. My passions are more : travelling, writing, reading and TV. Yeah the best words to describe me is TV addict (and crisps addict too).

I'm an only child and TV has always been a great friend of mine. And if I say great it's because, after all, it introduced me to Stefanie ! I was about 10 when I saw her for the first time. It was in Doctor Marcus Welby, in The Streets of San Francisco and in The 3 Million Dollar Man too. As those 3 series were broadcasted during the same period I already knew her fantastic smile when I discovered a Saturday afternoon, at 2pm, in my room (no I don't remember the clothes I was wearing !) Hart to Hart.

Hart to Hart has been on French TV for about 10 years, once a week. Each time it was a great escape for me. As I said what I loved (and that still cracks me up) was her smile. I was hooked by her charisma. After came Deceptions, Mistral's Daughter and Shadow on the Sun. Then nothing at all for nearly 10 years. And even if I hadn't forgotten Stefanie I didn't really follow her career and life. She wasn't on TV, she wasn't in the press, just somewhere in a corner of my heart, with childhood memories.

That was until this summer. She made an interview for a show here. She was in Kenya, she was at home, looking so great, speaking French, and she did it again ! She smiled, that damn smile. I don't know it's hard to explain, but abruptly all those memories came back. So I told to myself I had to join that group, which I should I have done much much earlier so that I can see her in Love Letters and The Adjustment. But I'm sure I'll meet her one day and then I'll have "my meeting with Stefanie" to tell.
Marie B.
Georgia, USA

My name is Marie and I have been a fan of Stefanie Powers for some time. I am a teacher in a suburb of Atlanta, GA in the United States. I travel in the summer with my jewelry making business (in the U.S.). I love to read and I have rediscovered a love for writing. I am also a member of the Hart to Hart group, and I am an ardent fan of Susan's Fanfiction, but it was and is Ms. Powers who first fueled my interest in the show and the Groups.
I first noticed her when I was a teenager and I saw her in "Die, Die My Darling" with Tallulah Bankhead. At the time, Ms. Bankhead was a favorite of mine, but the young actress who played her future daughter-in-law in the movie intrigued me. I always liked her in the subsequent movies in which she played. She had the thickest hair and a wicked widow's peak. I had one too. I didn't like Girl from Uncle or Feather and Father, I thought they played too much to the times and didn't showcase her talents, but I still loved the actress.

It wasn't until Hart to Hart that my admiration for her completely gelled. I thought that Jennifer Hart was the perfect role for her. Even though some of the plots were silly and far fetched to me, the chemistry between she and Robert Wagner was perfect. When it was announced that the two of them were playing the parts, I knew that it was going to be good. Twenty years later, I still find myself watching the tapes and wishing they had better writers. (They should have consulted some of the Fanfic writers at Nolene's Hart to Hart site.)

I have followed her career since the death of William Holden, which was when I really became interested in her as a person. I have found through my research and interviews of her that I've been fortunate enough to see and to read, that she is a woman after my own heart. She lives her life by her own rules and I like that. I truly believe that is what has kept her such a beautiful person on the outside over the years. You have to have something to work with on the inside.

I have really never been a "fan" person, but it is so interesting and rewarding to be able to share my thoughts with people who don't think I'm crazy for being so interested in Ms. Powers, Hart to Hart, and Mr. Wagner. I tell my family and others that know my secret obsession that I could have worse habits: alcohol, drugs, gambling, etc. Thanks for letting me be a part of your world.


Nancy D.
Maryland, USA
Aside from my Stefanie websites and group "jobs," I work full time with the Lyric Theatre in Baltimore, where we have everything from Broadway musicals/plays, to rock concerts, to Opera, to lectures. I've been employed at the theatre for about 25 years. I work part-time for another theatre in Baltimore, on weekends, as stage door security guard. I'm also the most popular pet-sitter in my neighborhood ... especially during the summer months when everyone goes on vacation ... and it's one of my favorite things to do!

I'm an avid reader, especially fond of mysteries. I enjoy going to concerts all over the country, and I enjoy good theatrical productions wherever and whenever I can see them. I love to travel and do it as often as possible. I'm a collector of Department 56 houses and accessories with an ever-changing, ever-expanding display of those collectibles set up year-round. I'm always building and re-building the village. I'm crazy about the computer and spend way too much time on it!!
Pat R.
Washington, USA
Where did I become a SP fan?
I became a fan of Stefanie's in San Francisco, where I grew up. I saw the filiming of 'Experiment in Terror' near my neighborhood.

When?
1961. I followed her career after, particularly in 1966-67 with her starring role in Girl From Uncle.

Why? and How?
At that time of the filming of 'Experiment of Terror', I was in grade school. Stefanie was in her late teens and she impressed me when interviewed by the local press. She came across as down-to-earth and intelligent. By the time 'Girl From Uncle' came out, I was in my teens and I loved the mod fashions she wore and the techy gadgets featured in the shows. I have followed her career ever since. I was fortunate to see her perform live at the Paramount Theater in Seattle ten years ago, when she toured with RJ in 'Love Letters'. They were terrific!
Sarah D.
Edinburgh, Scotland
I am married with two children. I was born on July 20 1967. I work part-time in Customer Services for one of the UK's largest retailers.

I have been a fan of Stefanie's since 1980 when I first started watching Hart to Hart. I loved the show when it was on and when they were filming in London in March 1983 I wrote to Stefanie and to RJ. Stefanie sent me a personal reply and an autographed photo and that was really the start of my being more a fan of hers than the show itself. When Hart finished I followed her career and the more I saw and read the more I liked and respected her. In 1990 Stefanie and RJ brought their version of Love Letters to London and I was so excited seeing them live. The twice that I attended the play I went to the stage door and was lucky enough to see them on both occasions for autographs and photos.

My dream of meeting Stefanie properly came true in 1991 when she came to star in the West End musical Matador. My husband wrote to her and asked if she would meet me and my two friends, one of whom, Lis is a member of this group too. He had written from his work so I didn't know about it. Stefanie said she would be pleased to meet with us after we saw the show. I saw the show 3 times and went backstage each time. She was so pleased to meet her fans and so warm and gracious to all of us. I have
met, and had contact with Stefanie at various times over the last 10 years and she is always so friendly and so interested in how you are and what you think about her projects. I always consider myself privileged to have been able to spend time with her. I also have a lot to be thankful to her for! If I hadn't been a fan of Stefanie's I would have missed out on some great friendships as I have met a lot of fellow fans over the years with whom I have made real and lasting friendships. I still am making new friends through the Stefanie group.

As for Stefanie's work projects, I have a lot of favourites. For nostalgic reasons I still say Hart to Hart although I very rarely watch it these days! My favourites of her mini-series are A Shadow on the Sun
and Deceptions. The films I would choose to watch would be Family Secrets, Love and Betrayal and Someone is watching. I always regret not being able to see her in Applause so I guess if I had to choose which of her stage performances I would like to see it would be that one although I will always have a soft spot for Love Letters - Melissa always will be HER role - and she was great in Matador and in The Adjustment too.

Aside from her work as an actress I have tremendous respect for the work Stefanie does on behalf of charities - both her own and others - her dedication and commitment should be an inspiration to us all. She is a special lady and this world is definitely a better place for having her in it.
Sheri D.
Arizona, USA

My name is Sheri Dever, I am 35 yrs old, single, no children. I have lived in Arizona for 4 years. I moved from Dayton, Ohio transfering with employer which I have been
with for 19 yrs. My paying job is at Bank One as a underwriter for RV loans. The job where my heart lies is in acting. I have always wanted to be an actress and only in
the past 1 1/2 have I ventured out into that world. I love to travel,act, sing and write(stories, songs and poems).

I have been a fan of Stefanie Powers since I was 13 and saw Hart to Hart. I was disappointed when they took the show of the air. I have admired Stefanie Powers acting, love for animals, and basically a women who is a survivor and can do whatever she puts her mind too. She loves life and takes every advantage to enjoy it and to make the world a better place for all living creatures. I aspire to be the actress she is and to make a difference in the world like she is doing.

My ultiamte goal is to be a actress and work with Stefanie Powers movie, tv show or in some way work with her, or the very least meet her.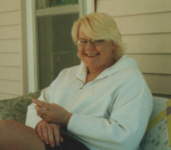 Tammy N.
Missouri, USA
I live in Missouri/USA with my husband Scott and two great kids Dakato and Lillian. I'm a Chef by profession, and my dream someday is to have my own restuarant, and of course meet Stefanie!!!!

I became a Stefanie fan during Hart to Hart, the best show ever!! I had to beg to stay up to watch the show and to see Stefanie. She was the first woman I really looked up to, as a role model so to speak. But I have added a few more to my list, but she was the first. Being a member of this group I have learned so much more about her and her work. I have found such a new respect for her. It makes me want to meet her even more than ever.

I love being a part of this group, and getting to know you all, can't wait to meet you all someday!!